Approximately 14.1 million adults aged 18 and older in the United States are diagnosed with Alcohol Use Disorder (AUD). The same report reveals that about 7.3 percent received any treatment in the past year. This includes about 6.9 percent of males and 7.9 percent of females with past-year AUD in this age group when broken down. It also notes that people with AUD are more likely to seek care from an alcohol abuse center for an alcohol-related medical problem than specifically drinking too much alcohol.

 What is AUD?
Alcohol use disorder (AUD) is a medical condition characterized by an impaired ability to stop or control alcohol use despite adverse social, occupational, or health consequences. It can range from mild to severe.
Further, changes in the brain caused by AUD can make individuals vulnerable to relapse.
 The good news
Most people with an alcohol use disorder can benefit from some form of treatment. Research shows these favorable findings:
About one-third of people who are treated for alcohol problems show no other symptoms after a year.

Many reduce their drinking and report fewer alcohol-related problems.
 What's next after the diagnosis?
A health professional often conducts a diagnosis of the patient's symptoms.
The patient feels like he has to drink at any time.
He can't control how much he drinks.

He feels terrible when he can't drink.
Then, he talks with the patient regarding his goals and comes up with a treatment plan. He discusses various treatment options. These include staying in a residential or inpatient program, outpatient program, medication, counseling, family therapy, and joining a support group. Such tools are all designed to help him recover from AUD.
The doctor can also
refer the patient to an alcohol abuse center to stay for a while

or live at home and go to the center for treatment.
Finding the best alcohol abuse center
Bear these tips in mind to help you make the best choice for the patient's needs and goals.
1. Inpatient/residential treatment programs work best for severe AUD or lack a safe, stable, and supportive living situation.
2. Residential treatment offers 24/7 supervision and care. It has been proven to be the most effective form of care for anyone seeking long-term abstinence.
3. Patients usually stay at a residential treatment facility for 7-30 days; or for 90 days or longer. Studies prove that treatment gets optimized when patients participate in a program for a substantial length of time.
4. A facility that offers varied methods can mostly help its patients. For example, alternative approaches like art, music, and yoga complement evidence-based approaches.
5. A therapeutic community model is an approach to long-term residential care. Additionally, it helps individuals build personal responsibility and accountability while addressing pertinent psychological and social problems in the process.
6. Numbers don't lie. Look into the facility's treatment outcomes or success rate. The patient's goal is long-term sobriety and healthier living.
7. Check how the center handles relapse after completing the rehab.
8. Some alcohol abuse centers offer sober living accommodation as part of an overall treatment plan.
9. Consider the center's location, amenities, and costs that you have to shoulder.
10. Many states provide funds for alcohol through substance treatment and public mental centers for those without income or insurance. See the directory of single state agencies for substance abuse services.
11. To seek centers with the five signs of higher-quality care, see the NIAAA Alcohol Treatment Navigator. Use this tool to assess the facilities' credentials, comprehensive assessment, an customized treatment plan. Additionally, you can use it for evidence-based treatments, and continuing recovery support.
 With these tips, choosing the best option is a good start towards the patient's recovery.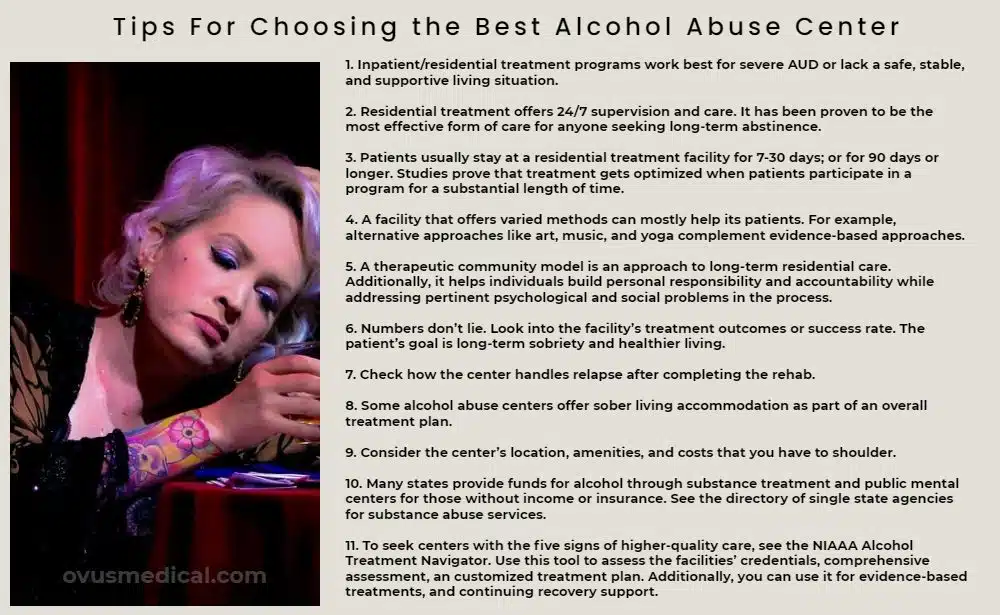 ---
 Check out our website for discreet yet reliable EtG tests that can detect alcohol in the urine.