Bundle – 6 Panel Urine Drug Test Cups + Fentanyl Strips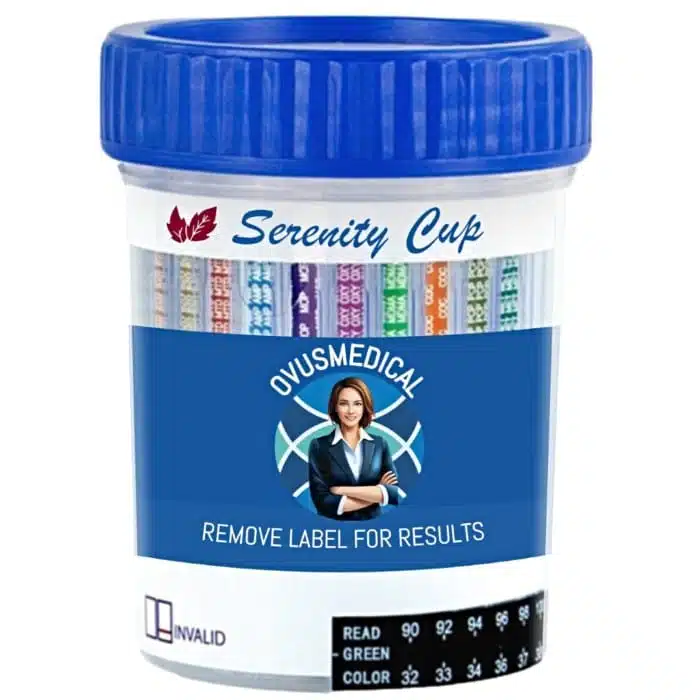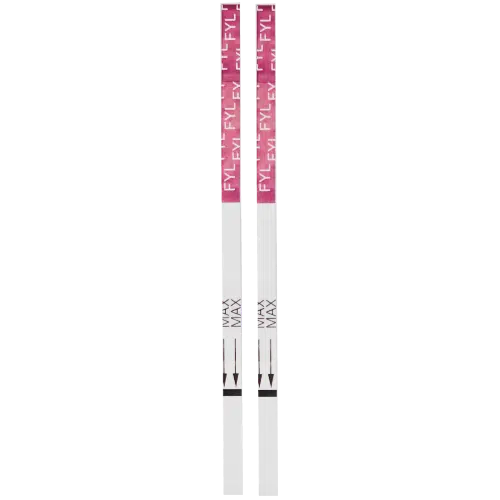 315 in stock
Cup test Instructions
Urine drug testing cups Instructions:
1. Be sure the drug test cup, specimen, and/ or controls are at room temperature (59-78 degrees) Remove the cup from the sealed pouch and use it as soon as possible.
2. Have the donor date and initial the label on the cup.
3. The donor provides a urine specimen in the drug testing cup and screws the cap on top of it. Start timer immediately.
4. The operator checks the cap for tightness.
5. Remove the peel-off label.
6. Check the temperature strip label at 4-5 minutes after specimen collection for the fresh urine specimen. Green color will appear to indicate the temperature of the urine specimen. The proper range for an adulterated specimen is 90-100 degrees F (32-38 degree C).
7. Drug test results are indicated by the presence or absence of colored band(s) in the result area of the test strips. The result should be read at 5 minutes. Do not interpret the result after 8 minutes as the test is then invalid.
8. Positive test results must be confirmed by another drug testing method. Send the cup and urine specimen intact to a toxicology laboratory for confirmation.
Strip test instructions
Instructions for Fentanyl Urine Test Strips
1. Remove the test strip from the unopened pouch and use it promptly to get the best and most accurate results. Ideally, the test should be conducted within one hour after removing the test strip from the package.
2. Carefully hold the test strip by the end where you can see the product name. Do not touch the strip membrane with bare hands to avoid contamination.
3. Dip the test strip upright in the cup comprising of the urine specimen for a minimum of 10-15 seconds. Be careful not to dip the strip past the maximum line (MAX) on the test strip.
4. As you immerse the strip in the urine specimen, the test will begin to process and color will appear across the membrane.
5. After the test strip has finished processing, take out the strip from the urine specimen cup and place it on a non-absorbent flat surface. Start the timer and wait for the colored band(s) to appear. Within 3 minutes, you would be able to read the result. Do not attempt to interpret the outcome after 10 minutes.
How To Interpret Test Strip Results: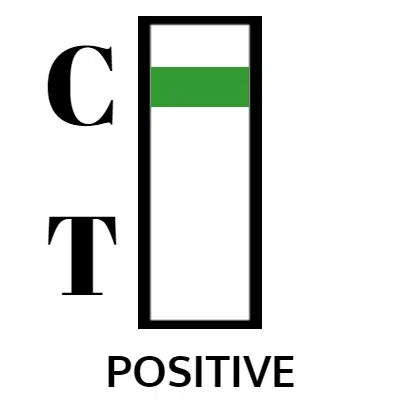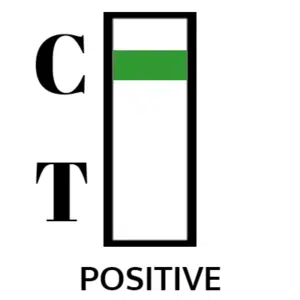 Positive: Positive test result is indicated as two colored bands appear on the membrane. One band appears in the control region(C) and another band appears in the test region (T).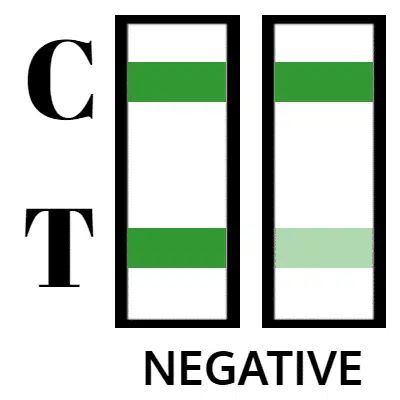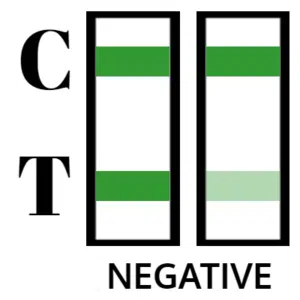 Negative: Negative test result is indicated as only one colored band appears in the control region©. No colored band appears in the test region (T).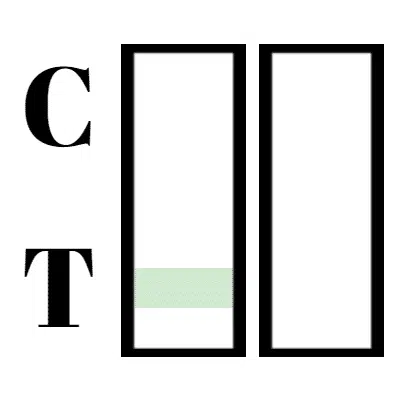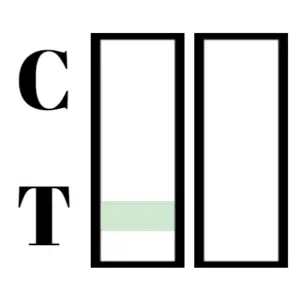 Invalid: Please note that in case control band fails to appear, the result shall be deemed as invalid.   Any result which has failed to produce a control band at the specified read time must be discarded. Please review the procedure and repeat with a new test. If the problem persists, discontinue using the kit immediately and contact your local distributor for assistance.
Cut-Off
| | | |
| --- | --- | --- |
| Drug Name | Abbreviation | Cut-Off Level |
| Amphetamines | AMP | 1000 ng/mL |
| Barbiturates | BAR | 300 ng/mL |
| Benzodiazepines | BZO | 300 ng/mL |
| Buprenorphine | BUP | 10 ng/mL |
| Cocaine | COC | 300 ng/mL |
| Morphine | OPI | 300 ng/mL |
| Oxycodone | OXY | 100 ng/mL |
+
Fentanyl  FYL  200 ng/ml
Delivery & Shipping
Same Day Shipping Monday-Friday
For All Orders Placed By 3:00pm

FED EX 2nd DAY and 3rd DAY are guaranteed, if the order is placed by 3pm,  but they do not include Sat, Sun or Holiday deliveries to business addresses.
Bundle – 6 Panel Urine Drug Test
Bundle – 6-Panel Urine Drug Test  – What is a six-panel drug test? Read on for more info:
Bundle – 6 Panel Urine Drug Test kit will show results in under 8 mins
DRUGS TESTED:

*

Amphetamine

 *

Oxycodone

 *

Benzodiazepines

 *

Buprenorphine

 *

Cocaine

 *

Opiates/Morphine

This urine drug testing cup is fast and easy to use.

They are

CLIA Waived

 and 

FDA Approved

.

These one-step six-panel urine testing cups detect six drugs in human urine with 99%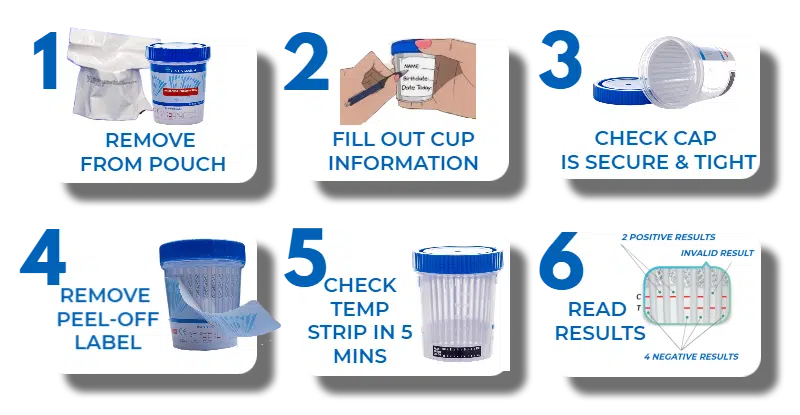 ---
Fentanyl Test Strips
What is the fentanyl morphine equivalent?
The simple Fentanyl Urine drug test strips can spot the presence of Fentanyl.
99% accuracy.
Results within 5 mins.
Bundle – 6 Panel Urine Drug Test Cups
The results are 99% accurate.
This drug testing kit is ideal for random drug testing, drug testing in the workplace, and drug testing in schools.
---
Drug Testing Strips, A simple solution
Safe and accurate. Our urine drug test strips are 99% accurate; you can always feel confident about safe, dependable, and precise drug testing.
Easy to use. Just dip it in the urine sample, and you'll get results in a few minutes—no need to wait.
Convenient. These test strips are fast and easy to use in the privacy of your home or office.
Affordable. All our testing strips are economical and available in bulk with quantity discounts.
Accurate. Our test strips provide an accuracy rate of 99%.
Ovus Medical's urine drug testing cups offer accurate drug testing results with convenience and speed. This 'rapid results' drug test cup offers a simple-to-read outcome in 5 minutes. Cups are designed to reduce mess with a no-drip screw top lid for effortless handling and extra security. Simple enough for testing in the home or office.
Each cup contains a built-in temperature strip to verify the person's urine. Get your drug test cup results in 5 minutes. Our 6-panel drug testing cup is CLIA-waived and FDA-approved. This POC (Point-of-Care) urinalysis cup is easy and provides fast results. It's an affordable solution trusted by companies, institutes, schools, government facilities, and similar organizations for its reliability and accuracy.