13 Panel Drug Screen w/ Adulterants
Drugs Tested
AMP, BAR, BUP, BZO, COC, FYL, MAMP (MET), MDMA, MTD, OPI300 (MOP), OXY, THC, PCP & 3 adulterations ADLTX (Specific Gravity, pH, and Creatinine)
FREE SHIPPING OVER $99
FOR BULK PRICING CALL 1 800-921-8241
13 Panel Drug Screen w/ Adulterants
Ovus Medical offers reliable and accurate drug testing cups. Fast, easy and convenient urine drug testing for all major industries including the workplace.
What's on a 13 panel drug test:
Adulterants (ADLTX), Amphetamine (AMP), Barbiturates (BAR), Benzodiazepine (BZO), Buprenorphine (BUP), Cocaine (COC), Ecstasy (MDMA), Fentanyl (FYL), Marijuana (THC), Methadone (MTD), Methamphetamine (MET), Opiates (OPI/MOR), Oxycodone (OXY), Phencyclidine (PCP)
---
This urine drug testing kit gives results in under 8 mins

Fully Integrated One -Step Urine Drug Testing Cup

Built-In Temperature Strip and Adulterants for Specimen Validity  

Highest Quality for an Affordable Cup

Up to 99% Accurate Results in Minutes

Test for 3 Adulterants: 

Specific Gravity, 

pH, 

Creatinine

Ideal for drug testing in the workplace, drug testing in schools, government agencies, clinical labs and more.
What are adulterants in drug testing?
The 13-panel drug test with adulterants from Ovus Medical looks for three adulterants: creatinine, specific gravity, and pH. The use of adulterants in a drug test aids in the detection of any manipulation of a urine specimen. It also reduces false-negatives caused by manipulation.
The three adulterants included in this 13 panel drug test:

Creatinine (CRE)
Creatinine concentrations below 45 mg/dL is used as a determinant if a urine specimen has been physiologically or non-physiologically dilute and if a corresponding negative drug result is valid.
Specific Gravity (SG)
Along with creatinine levels, specific gravity identifies any dilution of the urine specimen.
pH
Helps detect high PH, or acidic adulterants in the urine specimen
Specimen adulteration is the manipulation of a sample that may cause false-negative test results for the presence of drugs of abuse. Common adulterants in drug testing that may affect drug testing are water, soap, bleach, vinegar, oxidants, and salt. As a result, it is recommended that when a corporation implements a drug-testing program, they incorporate 'adulterant testing' in their lab panel and fast drug screening.
---
The cup is extremely sensitive and affiliates to

 SAMHSA

 cutoff levels.

Each drug testing cup has a 99% accuracy rate.

Click the 'Info & Shipping tab' to learn what is on this 12-panel drug test.
Our multi-screen cups can also benefit from unemployment drug testing and drug testing in the workplace. Taking the required steps to ensure a drug-free workplace is a sensible move for any company facility or group, and drug test results may be obtained in as little as 5 minutes.
---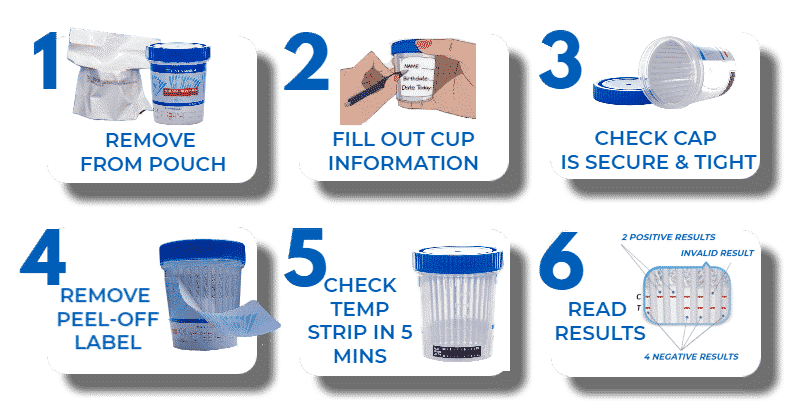 Does Acid show up on a 13 panel drug test?
LSD (Acid) Acid does not show up on a 13 panel drug test cup.
However, you can test for LSD using our LSD urine testing strips.
Does suboxone show up on a 13 panel drug test?
Yes, the 13 panel urine drug test cup can detect the presence of Suboxone. Positive results will show as BUP for Buprenorphine which is the primary ingredient of Suboxone.
Learn more about workplace random drug testing policy and DOT drug testing.
This 13 Panel cups tests for Adulterants.
Buy Urine Drug Test Strips Here
Additional information
| | |
| --- | --- |
| Weight | N/A |
| Dimensions | N/A |
Testing Instructions
Drug Testing Instructions:
1. Be sure the drug test cup, specimen, and/ or controls are at room temperature (59-78 degrees) Remove the cup from the sealed pouch and use it as soon as possible.
2. Have the donor date and initial the label on the cup.
3. The donor provides a urine specimen in the drug testing cup and screws cap on top of it. Start timer immediately.
4. The operator checks the cap for tightness.
5. Remove the peel-off label.
6. Check the temperature strip label at 4-5 minutes after specimen collection for the fresh urine specimen. Green color will appear to indicate the temperature of the urine specimen. The proper range for an adulterated specimen is 90-100 degrees F (32-38 degree C).
7. Drug test results are indicated by the presence or absence of colored band(s) in the result area of the test strips. The result should be read at 5 minutes. Do not interpret the result after 8 minutes as the test is then invalid.
8. Positive test results must be confirmed by another drug testing method. Send the cup and urine specimen intact to a toxicology laboratory for confirmation.
Cut-Off
| | | | |
| --- | --- | --- | --- |
| Drug Name | Abbreviation | Detection time | Cut-Off Level |
| Amphetamines | AMP | 1-2 Days | 1000 ng/mL |
| Barbiturates | BAR | 1-4 Days | 300 ng/mL |
| Benzodiazepines | BZO | 1-2 Days | 300 ng/mL |
| Buprenorphine | BUP | 2-6 Days | 10 ng/mL |
| Cocaine | COC | 2-4 Days | 300 ng/mL |
| Ecstasy | MDMA | 2-4 Days | 500 ng/mL |
| Fentanyl | FYL | 2-3 Days | 200 ng/mL |
| Marijuana | THC | 5+ Days | 50 ng/mL |
| Methadone | MTD | 1-3 Days | 300 ng/mL |
| Methamphetamine | mAMP (or MET) | 2-4 Days | 1000 ng/mL |
| Morphine | OPI | 2-3 Days | 300 ng/mL |
| Oxycodone | OXY | 1-3 Days | 100 ng/mL |
| Phencyclidine | PCP | 7-14 Days | 25 ng/mL |
Delivery & Shipping
Same Day Shipping Monday-Friday
For All Orders Placed By 4pm
Next Day Shipments Are Delivered
On The Next Business Day
NOTE: There Are No Deliveries On Weekends
---