Cotinine - Nicotine drug test strips
Our COT strips are easy and convenient to use—results in under 5 minutes.
The Cotinine test strips provide quick results within five minutes.

Our Cotinine testing strips possess a cutoff level of 200 ng/ml.

Accurate drug testing.

Urine drug test.
Drug Testing Strips; A simple solution 
Safe and accurate. Our urine drug test strips are 99% accurate; you can feel confident of safe, dependable, and precise drug testing at all times. 

Easy to use. Just dip it in the urine sample, and you'll get results in a few minutes—no need to wait.

Convenient. These test strips are fast and easy to use in the privacy of your home or office. 

Affordable. All our testing strips are economical and available in bulk with quantity discounts. 

Accurate. Our test strips provide an accuracy rate of 99%. 
---

Cotinine is the first-stage metabolite of nicotine, a toxic alkaloid that stimulates the autonomic ganglia and central nervous system when in humans. Nicotine is a drug to which virtually every member of a tobacco-smoking society is exposed, whether through direct contact or second-hand inhalation. In addition to tobacco, nicotine is also commercially available as the active ingredient in smoking replacement therapies such as nicotine gum, transdermal patches, and nasal sprays.
How long does cotinine stay in your blood?
In general, nicotine leaves your blood within 1 to 3 days after you stop using tobacco. Cotinine will be gone after 1 to 10 days. Neither nicotine nor cotinine will be detectable in your urine after 3 to 4 days of stopping tobacco products.
What level of cotinine do employers test for?
To test positive for cotinine, a level of 10ng/mL or greater must be present in the urine specimen. This level is set 20 to 30 times higher than what is expected for non-users exposed to second-hand smoke, ensuring an accurate depiction of tobacco use.
 Cotinine Drug Test Strip - Quality control
Internal procedural controls are included in the test. A colored band appearing in the control region(C) is considered an internal positive procedural control, confirming sufficient specimen volume and correct procedural technique.

External controls are not supplied with this kit. It is recommended that positive and negative controls be tested as a good laboratory practice to confirm the Cotinine test procedure to verify proper test performance.
Additional information
| | |
| --- | --- |
| Weight | 0.1 lbs |
| Dimensions | 3 × 2 × 1 in |
| Drug tested | Cotinine ˙(COT) |
| Package size | 25 in pack |
Strip testing Instructions
Instructions for Cotinine Drug Test Strips
1. Remove the test strip from the unopened pouch and use it promptly to get the best and most accurate results. Ideally, the test should be conducted within one hour after removing the test strip from the package.
2. Carefully hold the test strip by the end where you can see the product name. Do not touch the strip membrane with bare hands to avoid contamination.
3. Dip the test strip upright in the cup comprising of the urine specimen for a minimum of 10-15 seconds. Be careful not to dip the strip past the maximum line (MAX) on the test strip.
4. As you immerse the strip in the urine specimen, the test will begin to process and color will appear across the membrane.
5. After the test strip has finished processing, take out the strip from the urine specimen cup and place it on a non-absorbent flat surface. Start the timer and wait for the colored band(s) to appear. Within 3 minutes, you would be able to read the result. Do not attempt to interpret the outcome after 10 minutes.
How To Interpret Test Strip Results: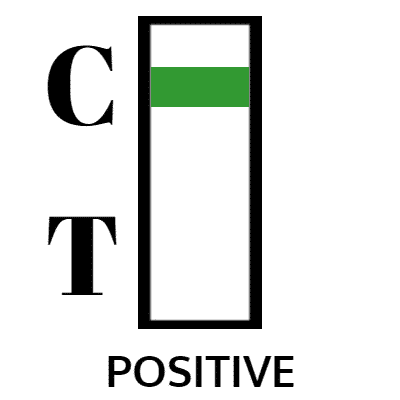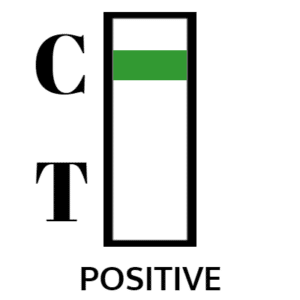 Positive: Positive test result is indicated as two colored bands appear on the membrane. One band appears in the control region(C) and another band appears in the test region (T).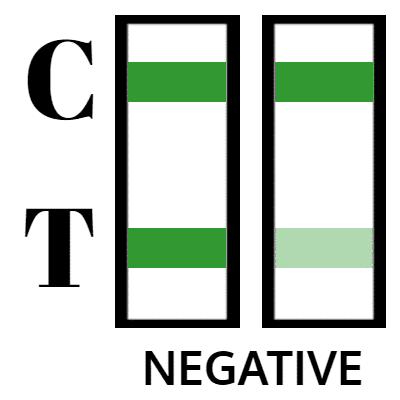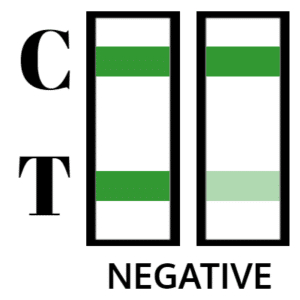 Negative: Negative test result is indicated as only one colored band appears in the control region©. No colored band appears in the test region (T).
Invalid: Please note that in the case-control band fails to appear, the result shall be deemed as invalid.
Any result which has failed to produce a control band at the specified read time must be discarded. Please review the procedure and repeat with a new test. If the problem persists, discontinue using the kit immediately and contact your local distributor for assistance.