Everybody goes through personal problems at one point or another. Some people can cope with the stress that comes with these issues. However, others need assistance. This is where the Employee Assistance Program (EAP) comes in.
The Employee Assistance Program assists employees during the most turbulent times of their life. The EAP offers free programs that help employees resolve challenges such as drug or alcohol abuse, emotional problems, child care issues, anxiety, marital or family relationship concerns, elderly care, depression, or financial difficulties. These programs are typically free for employees.
In some cases, EAPs extend assistance to the family members of the employees involved.
The Pros and Cons of Employee Assistance Program Services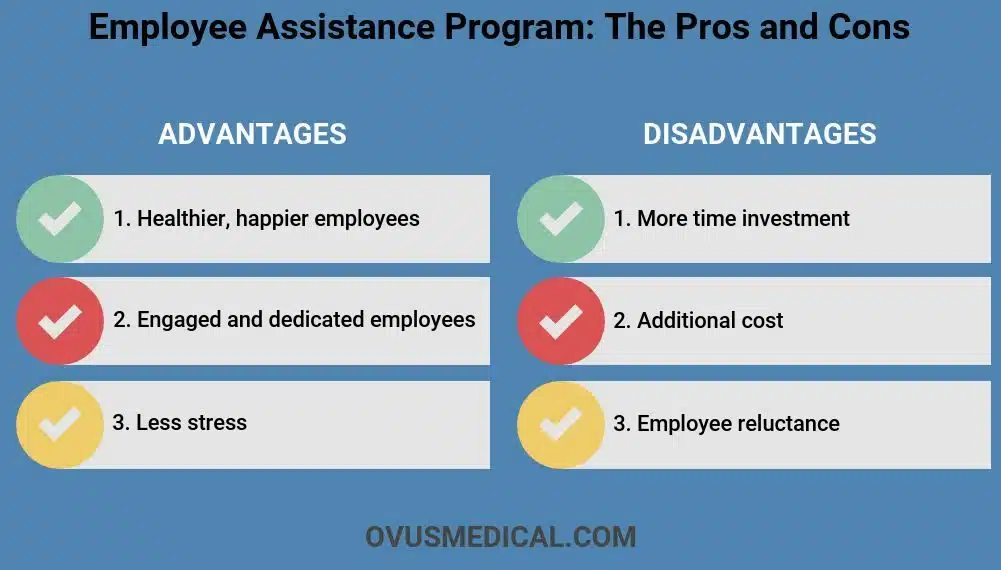 The Advantages of EAP Services:
Healthier, happier employees
Experts have proven that physical, emotional, and mental stressors can affect a person's workplace performance. A critical incident that has led to depression, job and family issues due to substance abuse can wreak havoc with a person's physical, emotional, and mental well-being.
But when an employee gets help from his employer through the EAP, he feels loved and cared for. The result? You get happier and healthier employees that can spread good vibes in the workplace!
Engaged and dedicated employees
Did you know that only a whopping 15% of employees are actively engaged? This means 85% of your employees aren't doing what they're paid to do. Eventually, employee disengagement can hurt your bottom line.
However, with a well-laid-out EAP that assists employees at a time when they need it most, your employees will feel your concern for them. As their way of paying back, they'll work harder and better to show their support for you and the company's goals.
Less stress
Fights in the workplace, no matter how minor, can be stressful for business owners like you. A dent in the company's bottom line due to unproductive, unengaged employees can also be a source of stress.
Now, an EAP might not be the perfect solution for all these, but it will help you manage your employees better. As a result, you'll have less stress running your business.
The Disadvantages of EAP Services:
Employee Assistance Programs come with plenty of benefits. However, like everything else, they come with their own set of disadvantages. What are their cons?
More time investment
As mentioned above, you, the business owner, need to spread information about your company's EAP as effectively as possible. Creating and putting out posters, conducting seminars and workshops, and even meeting with your managers and supervisors on how you can efficiently promote the EAP can be time and effort consuming.
Additional cost
A well-established EAP doesn't come cheap. You have to hire the right EAP service provider. If you have less than 25 employees, your typical EAP cost will be $50 annually for every employee. 
Additionally, you'll have to spend to create informational materials (posters, flyers, stickers) and human resources.
Employee reluctance
Employees may be reluctant to take advantage of a company's EAP due to insufficient information or misinformation. Some employees feel subjecting themselves to a drug test program, for example, might compromise their job. They think that they might get sacked or ridiculed by co-workers, managers, and supervisors.Thus, a need for robust information dissemination is necessary. Employers should post about the different EAP offers in cafeterias, workplaces, garages, and other areas frequented by employees.
An EAP can help you build genuine, lasting relationships with the people who are helping you run your business. But like everything else, it comes with its own set of pros and cons. Read through the list above. It might help you decide whether an EAP is right for you.
Do you want to learn more about this topic? Visit the Ovus Medical Blog. We have a wealth of information you'll find beneficial.