Additional info on: 
Drug cut-off levels;

Cpt 

codes; Clia Waived

What are Drug Cutoff Levels?
The cut-off level is a drug testing concept that refers to that point under which a drug test is called negative and above which a drug test is called positive. For drug screening, the cut-off is determined at a point that will optimize drug detection while maintaining minimum false-positive results. It is important to emphasize at this point that a negative result does not mean that a sample is drug-free, only that the level of concentration of any substance that it may contain is below the defined cut-off.
In a drug test, a negative result is defined as a specimen that does not indicate a level of drugs at, or above, the specified concentration of a drug. That specified concentration used is called the cut-off level. A specimen that contains drugs at or above the determined cut-off level is positive.
If you are interested in locating the cut-off level for your product, Ovus Medical provides information with each shipment. Each package comes with a Cut-off level list located on the second page of the pamphlet shipped. You can also find the cut-off levels on each product page. See Drug Cut Off Level Chart here. 
---
---
What are CPT Codes?
Current Procedural Terminology Codes (CPT Codes) are the standard for how United States medical professionals such as physicians and healthcare providers, including medical facilities, insurance companies, and other accreditation groups, report and document medical, surgical, anesthesiology, laboratory, radiology, evaluation and management services.
Common Procedural Technology (CPT codes) are numbers assigned to every task and service a medical practitioner may provide to a patient including medical, surgical, and diagnostic services. They are used by insurers to determine the amount of reimbursement that a practitioner will receive by an insurer for that service. Since everyone uses the same codes to mean the same thing, they ensure uniformity.
The more than 7,000 five-character CPT Codes are an important part of the billing process. They are used by insurers to aid in determining the amount of reimbursement the physician or healthcare provider will receive for services rendered.
CPT Codes are

copyrighted

and maintained by the

American Medical Association (AMA)

. Updated annually, these codes fall into three major categories.

Category I

– The code range is 00100 to 99499. Each five-digit code has a corresponding description of the procedure or service.

Category II

– These are more of alphanumeric tracking codes to describe clinical components in-clinic services or evaluation and management.

Category III

– These provisional codes are for new and emerging technology, used for the collection of data and assessment of new procedures and services.
---
---
What Does it Mean to Be CLIA Waived?
 The Clinical Laboratory Improvement Amendments of 1988 (CLIA) regulates all the facilities in the United States that conduct laboratory testing on humans for diagnosis and health assessment, including the prevention and treatment of diseases. The CLIA of 1988 federal regulatory criteria does not apply to basic research testing and clinical trials.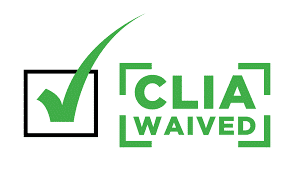 ​The Clinical Laboratory Improvement Amendment Program not only sets standards for clinical laboratory testing but is also the governing body that issues certificates to laboratories across the United States. It is CLIA's purpose to make sure that all laboratory test results are accurate, reliable and relevant no matter where the test was conducted.
Every laboratory system, examination, and the assay is categorized for its level of complexity. The assigned scores are 1, 2 and 3, with 1 as the lowest level of complexity, and 3 as the highest level of complexity. A score of 2 is given for a test that falls in between the characteristics listed for 1st and 3rd levels of complexity.