Have you picked up a cough or cold in the last few days?
Naturally, many people who are starting to feel sick wonder if they have picked up the coronavirus that continues to spread all over the world.
How exactly does COVID-19 testing work?
There are several ways to detect the virus, including PCR and Covid-19 at home rapid tests.
They can also provide accurate results in under an hour.
Are you interested in learning more about how these antigen tests work and how to use them when you are starting to feel under the weather?
In this article, we will take a deep dive into antigen testing for the coronavirus and leave you with everything you need to know to get started testing at home. Read on to find out more about antigen testing.
What Is a COVID Rapid Antigen Test?
Home antigen COVID tests are used to detect the presence of a specific active virus inside a person's body. They are very fast, and some tests can return results in as soon as fifteen minutes.
Antigen tests used in schools or organizations can be performed on-site.
Healthcare professionals call this "point-of-care" testing. This is an effective way to screen a large asymptomatic population quickly, even if they haven't had any known exposure.
If a person does test positive, the school or organization can quickly isolate that individual to limit spread to the rest of the community. They can also find close contacts and help to reduce the risk of transmission of the virus further.
Within a school or public organization, antigen testing is primarily a screening tool that helps scout out positive results. It is not used as a diagnostic tool as much in medical settings. Although it can be used when someone first presents to the hospital.
Scientists have created models that show that point-of-care testing is really valuable. Self-administered tests as surveillance have a quick turnaround time. With a contagious virus such as COVID-19, this is extremely valuable because time is of the essence.
Overall antigen testing is an important tool in preventing the spread of disease.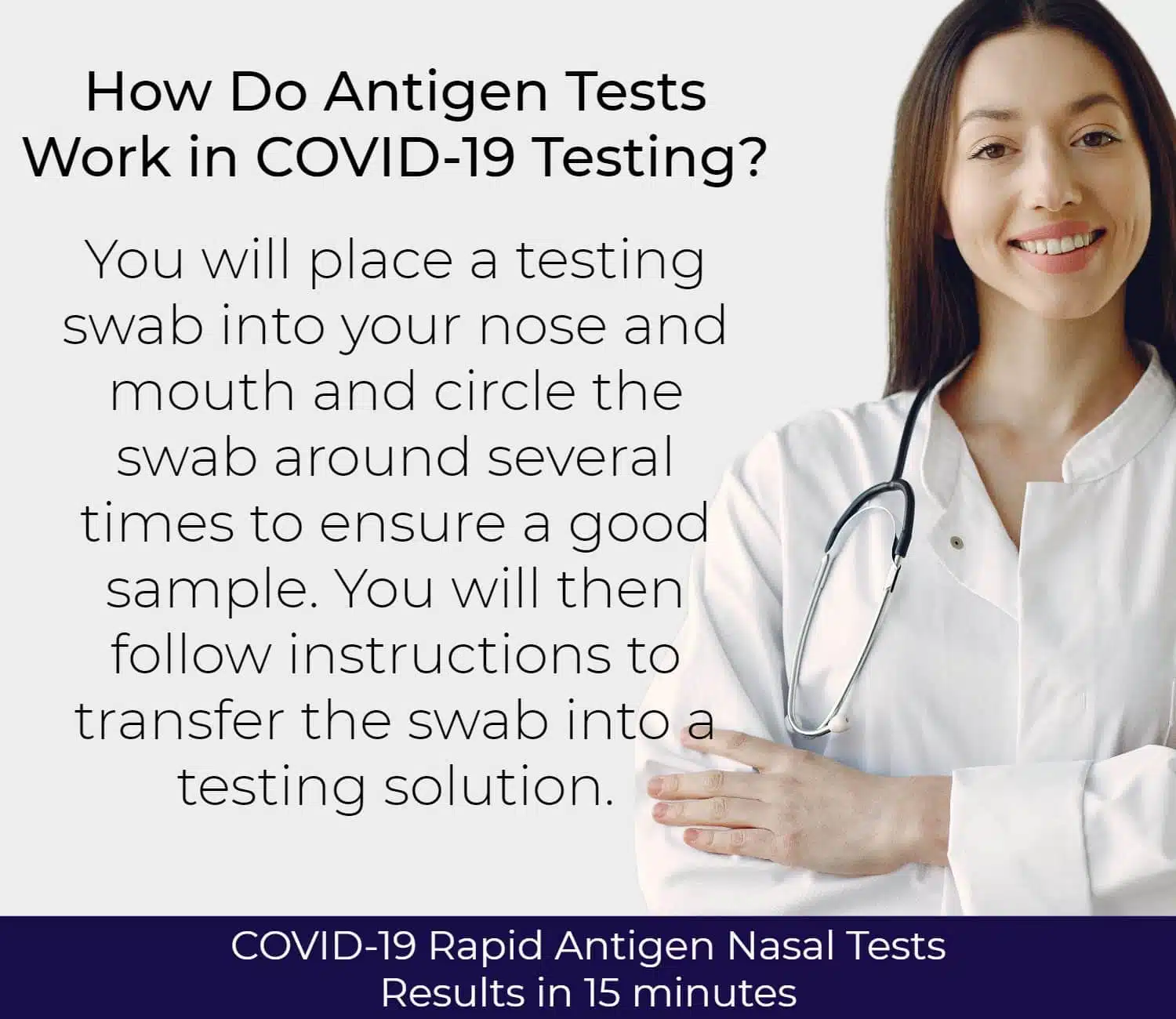 How Do Antigen Tests Work in COVID-19 Testing?
You might be familiar with COVID tests administered at your primary care office or testing site. The at-home antigen tests work similarly.
You will place a testing swab into your nose and mouth and circle the swab around several times to ensure a good sample. You will then follow instructions to transfer the swab into a testing solution.
The goal of these tests is to find a specific protein associated with the coronavirus. Antigens are small particles present in the virus that can transfer onto a testing swab. If the antigen is found, a positive result appears on the testing strip in a matter of minutes, like a pregnancy test.
This is helpful because getting your results quickly gives you time to take the right actions. You can make individualized decisions about how to quarantine. This will keep yourself from spreading the virus to others. You can also plan to get medical care and prevent the transmission cycle.
There are other types of testing for COVID-19, but the antigen test is the fastest test for use at home. A PCR test in a doctor's office might be more accurate and give a definitive result.
When Should You Take an At-Home Test?
You may already be fully vaccinated for COVID-19. Still, it makes sense to bring out an at-home test if you are feeling unwell. You may be experiencing a breakthrough infection.
While most breakthrough infections will be far less severe if you have been vaccinated, it is still important to understand if you have the virus and can spread to others.
It's also a good idea to swab yourself before you go to an indoor event with a lot of other people. If you are planning a dinner with a group of friends, travel for the holidays, or a large event like a concert, you'll be better off knowing if you have tested positive. Moreover, others will be grateful that you have done your due diligence in testing positive or negative.
Rapid tests are viewed by doctors and scientists as a screening tool. By the time you get back a PCR test or another more accurate test, the results may not even be that meaningful.
Perhaps you exposed yourself to more people in the meantime, so the result can't really be definitive. It is possible to become infected during the waiting window.
The key is to take the test as close to the time you are planning your event as possible. That is how you can be most certain of your results. Aiming for the same day is a reasonable goal.
How Accurate Are Antigen Tests?
Naturally, you may wonder about the COVID antigen test accuracy.
It is certainly true that PCR tests are more sensitive than antigen tests. This means that you are less likely to have a false negative with a PCR test. PCR tests will detect more true positives than antigen tests, and for that reason, they are a more definitive test.
Still, antigen tests are very accurate, especially when you are the most infectious. Actually, during the time frame of being infectious. antigen tests are nearly as good as PCR tests in terms of accuracy.
A study out of Johns Hopkins University SOM showed that COVID-19 was found 87% of the time in hospital patients who were symptomatic with the disease. They also found that 71% of patients who were asymptomatic tested positive on an antigen test.
False positives are rare with a rapid antigen test, according to leading scientists. If you test positive on an antigen test at home, it is very likely that you truly do have the virus. You should isolate yourself from others.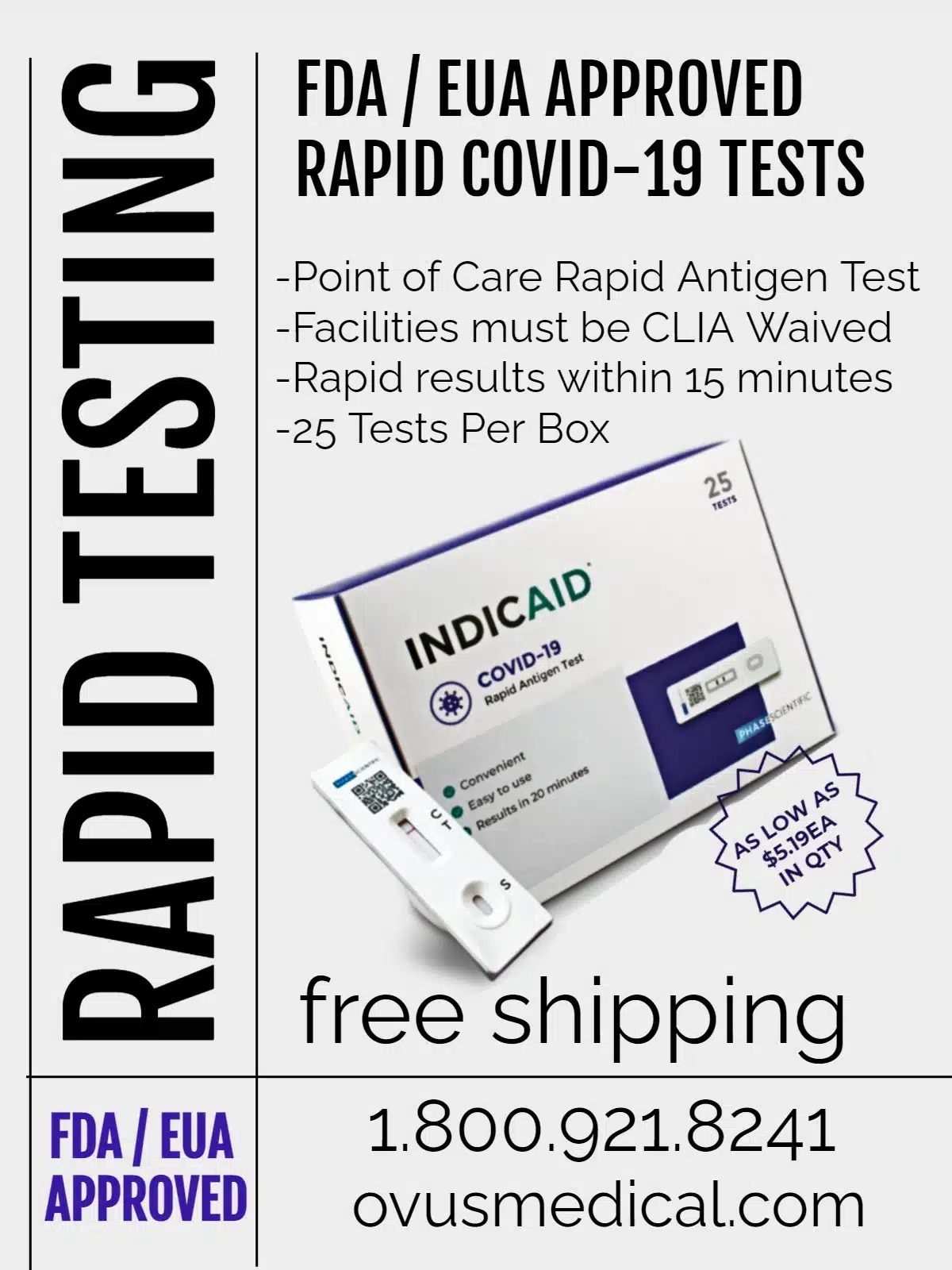 Following Up
It makes sense to follow up with a PCR test or another antigen test afterward if you are concerned about a positive antigen test. The more tests you take, the greater the accuracy is, even with the same test.
If you have a negative result, that means that the test didn't find the virus in your system. But in this case, you can't be quite as confident that it truly isn't there. It could simply mean that you have the virus, but it is in the earlier stages of infection and has not created enough copies of itself to be detectable.
If you think this could be the case, it makes sense to take another antigen test one or two days later to get a clearer picture. Oftentimes, the home kit that you buy will come with a second copy for this exact reason.
The home test doesn't bring the ability to identify infection to 100%, but it does provide a lot of value. It is important to remember to take a negative test result with some degree of caution, and know that the test loses its validity as soon as you re-expose yourself in public.
Will An Antigen Test Identify the Omicron Variant?
The omicron variant has become a major force in late 2021 as a leading variant of the virus that is highly transmissible.
As mentioned, it is very possible to miss a positive result during the earlier stages of infection.
Early research by the Food and Drug Administration, working with the National Institute of Health has looked at the rapid antigen tests in conjunction with the highly contagious omicron variant. The NIH Rapid
Acceleration of Diagnostics program showed that rapid antigen tests may not be as good at detecting this variant.
The research employed samples from known infected patients who had the omicron variant. They wanted to specifically look at the ability of at-home antigen tests to detect the virus.
The early data from the study shows that antigen tests do a good job of detecting the omicron variant still, but with reduced sensitivity. It is still very possible to miss an infection with an antigen test.
It also depends on the specific antigen that the test is trying to find. To get into the biology a bit, some tests look for the nucleocapsid, rather than the spike protein. The nucleocapsid is a special RNA-binding protein within the virus that is critical to its survival and growth.
Certain tests still have the ability to detect the omicron variant with similar sensitivity to other variants, per the FDA.
The Bottom Line
When it comes to COVID-19 testing, the COVID-19 home tests that rely on antigens are the fastest tool for the job. It is true that you will sacrifice some accuracy that may be beneficial in other settings, but antigen tests are the true workhorses of diagnostic testing in the pandemic.
If you or a loved one is developing symptoms of COVID-19, you should seek medical care immediately.
At-home tests may be valuable to you in determining if you have the virus. For more information, please check out our other articles on COVID-19 home tests. Contact us here if you are interested in ordering home tests.