14 Panel Drug Test w/ ALC, FYL, HCG
Forensic use only due to Fentanyl, See additional info below
Drugs Tested
ALC, AMP, BAR, BUP, BZO, COC, HCG, MAMP (MET), MDMA, MTD, OPI300 (MOP), OXY, THC, &  FYL 
FOR BULK PRICING CALL 1 800-921-8241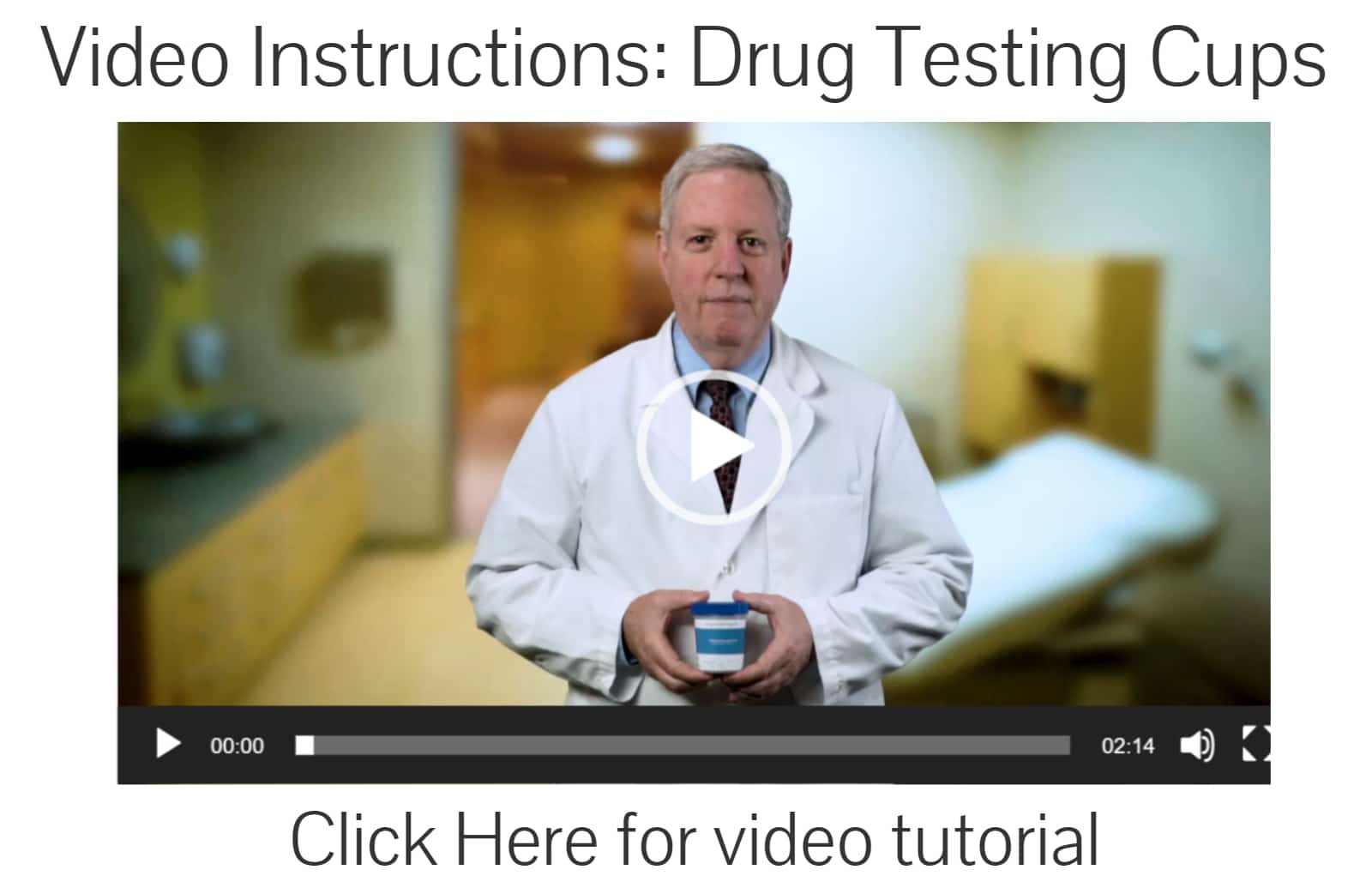 Drug Testing Cups; A Reliable Solution
Urine drug test cups are 99% accurate.

Safe and reliable drug testing.

Easy to use and convenient.

Handy to use in the privacy of home or office.

Same Day Shipping Mon-Fri

Bulk Discounts Available on all 14-panel drug tests

Highly sensitive and adhere to SAMHSA cutoff levels.
Bulk Discounts Available


Online Chat Customer Service
Additional information
| | |
| --- | --- |
| Weight | N/A |
| Dimensions | N/A |
Testing Instructions
Urine drug testing cups Instructions:
1. Be sure the drug test cup, specimen, and controls are at room temperature (59-78 degrees). Remove the cup from the sealed pouch and use it immediately.
2. Have the donor date and initial the label on the cup.
3. The donor provides a urine specimen in the drug testing cup and screws the cap on top of it. You can start the timer right away.
4. The operator checks the cap for tightness.
5. Remove the peel-off label.
6. Check the temperature strip label 4-5 minutes after specimen collection for the fresh urine specimen. The green color band will appear to indicate the temperature of the urine specimen. The acceptable range for an adulterated specimen is 90-100 degrees F (32-38 degrees C).
7. Drug test results are indicated by the presence or absence of colored band(s) in the result area of the test strips. The result should be read at 5 minutes. Do not interpret the result after 8 minutes, as the test is invalid.
8. Positive test results must be confirmed by another drug testing method. Send the cup and urine specimen intact to a toxicology laboratory for confirmation.

Cut-Off
Cutoff levels expressed as nanograms per milliliter (NG/ml) and set as follows:
Drug Name
Abbreviation
Detection time
Cut-Off Level
Amphetamines
AMP
1-2 Days
1000 ng/mL
Barbiturates
BAR
1-4 Days
300 ng/mL
Benzodiazepines
BZO
1-2 Days
300 ng/mL
Buprenorphine
BUP
2-6 Days
10 ng/mL
Cocaine
COC
2-4 Days
300 ng/mL
Ecstasy
MDMA
2-4 Days
500 ng/mL
Fentanyl
FYL
2-3 Days
200 ng/mL
Marijuana
THC
5+ Days
50 ng/mL
Methadone
MTD
1-3 Days
300 ng/mL
Methamphetamine
mAMP (or MET)
2-4 Days
1000 ng/mL
Morphine
OPI
2-3 Days
300 ng/mL
Oxycodone
OXY
1-3 Days
100 ng/mL
Human Chorionic Gonadotropin
hCG
Ethyl Alcohol
ALC
1-2 Days
Delivery & Shipping
Same-Day Shipping Monday-Friday For  All Orders Placed By 3:00 pm
NOTE: FED EX 2nd DAY and 3rd DAY are guaranteed if the order is placed by 3 pm,
but they do not include Sat, Sun, or Holiday deliveries to business addresses.
Instruction video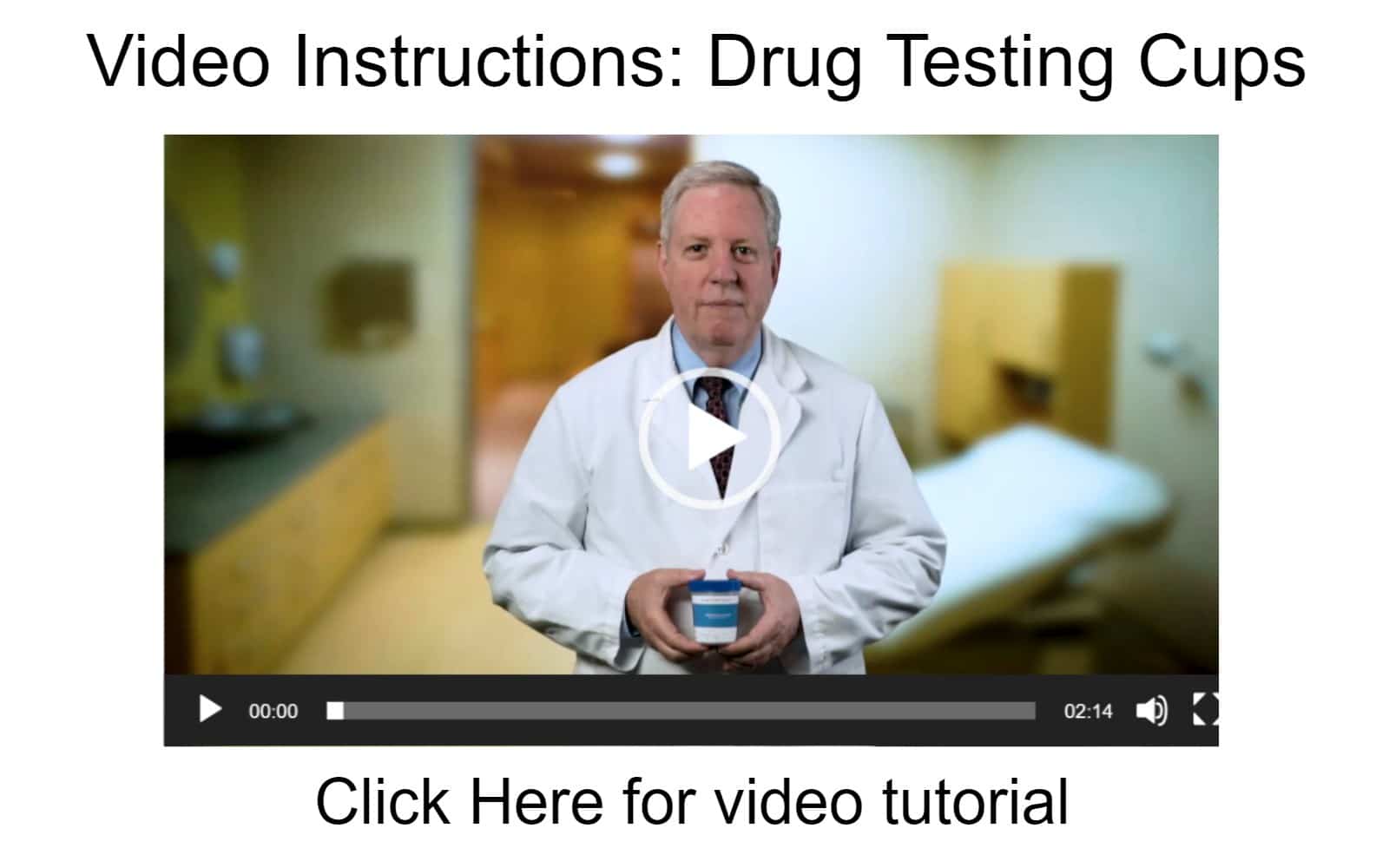 Drug tested
| | |
| --- | --- |
| Status | For Forensic Use Only |
| Drug tested filter | Amphetamine (AMP), Barbiturate (BAR), Benzodiazepine (BZO), Buprenorphine (BUP), Cocaine (COC), Fentanyl (FYL), Marijuana (THC), MDMA (MDMA/Molly), Methadone (MTD), Methamphetamine (MET), Opiates (OPI/MOR), Oxycodone (OXY), Pregnancy (hCG), Ethyl Alcohol (ALC) |
En español
Tiras de prueba de drogas; Una solución sencilla
Fácil de usar – ¡Obtenga resultados precisos en menos de 5 minutos! Nuestra copa de prueba de drogas es fácil de usar y proporciona pruebas fiables. Experimente la conveniencia agregada con la capacidad de probar de la aislamiento de su propio hogar u oficina.

Alta sensibilidad – Nuestras avanzadas tiras reactivas de orina de grado médico están diseñadas para una máxima sensibilidad y precisión, asegurando que usted obtenga una lectura exacta en todo momento. Adhiriéndose a los niveles de corte de SAMHSA, puede confiar en que nuestro producto le dará resultados rápidamente. 

Envío en el mismo día – ¡No hay necesidad de esperar días o semanas para su entrega! Ofrecemos envío el mismo día, de lunes a viernes. ¿A qué está esperando? ¡Compre ahora y reciba su pedido rápidamente!

Descuentos por volumen: ¡abastézcase y ahorre mucho dinero! Con los descuentos por volumen disponibles, nunca ha habido un mejor momento para comprar grandes pedidos. Reciba un descuento al comprar varias unidades 

Servicio de atención al cliente – ¿Sigue teniendo preguntas? Siempre estamos aquí para ayudarle. Póngase en contacto con nosotros a través de nuestro servicio de atención al cliente por chat en línea para obtener asistencia y asesoramiento experto hoy mismo
Características:
Resultados rápidos en 5 minutos: Obtenga la información que necesita sin largos periodos de espera: ¡ideal para profesionales ocupados y personas con prisa!

Diseño fácil de usar: Diseñado para que sea fácil de manejar y no ensucie, lo que lo convierte en una forma eficaz e higiénica de obtener resultados fiables rápidamente.

índice de precisión del 99%: Puede confiar en que los datos obtenidos son fiables, dándole seguridad a la hora de tomar decisiones. 

Descuentos por volumen disponibles: Compre varios juegos a la vez y benefíciese de grandes ahorros, perfectos para quienes se abastecen de suministros.
Preciso y confiable: las pruebas de drogas de múltiples paneles de Ovus Medical detectan los medicamentos recetados de los que se abusa más comúnmente con una precisión y fiabilidad superiores. Los bajos niveles de corte garantizan una precisión del 99%, mientras que el diseño innovador de nuestras copas garantiza resultados rápidos en cuestión de minutos.
14 Panel Drug Test w/ ALC, FYL, HCG
Introducing the Ovus Medical 14 Panel Drug Test with ALC, FYL, and HCG, a versatile and convenient solution for quick and accurate drug testing. Designed for at-home users, employers, rehab centers, hospitals, treatment facilities, and youth centers alike, our drug test addresses effective and reliable drug screening in various settings.
Reliability You Can Trust
Ovus Medical's drug tests are known for their accuracy, and the 14-Panel Drug Test is no exception. With the ability to detect up to 14 different substances and check for adulteration, it's the perfect tool for ensuring a drug-free environment.
Transform Your Drug Screening Process
Implementing the Ovus Medical 14 Panel Drug Test in your home, workplace, or facility is a simple and efficient way to maintain a drug-free environment. With its quick and accurate results, advanced detection capabilities, and secure temperature strip, you can be confident in the effectiveness of your drug testing practices.
Take action today, and experience the convenience and accuracy of the Ovus Medical 14 Panel Drug Test with ALC, FYL, HCG. Purchase confidently, knowing that our product provides the reliable and comprehensive drug screening solution you need.
This Cup Tests For:
Amphetamine, Barbiturate, Benzodiazepine, Buprenorphine, Cocaine, Fentanyl, Marijuana, MDMA, Methadone, Methamphetamine, Opiates,
Oxycodone, Pregnancy, Alcohol
Features:
Advanced Detection: Our 14 Panel Drug Test with ALC, FYL, and HcG doesn't just detect common drugs of abuse, it also checks for fentanyl, alcohol, and pregnancy hormones, providing a comprehensive screening solution.
Temperature Strip: The temperature strip in every cup adds an extra layer of security by detecting any attempts to adulterate the urine sample, ensuring the integrity of the test result.
Quick and Easy: No need for a lab — get accurate results within minutes. The user-friendly design of our drug test cups ensures a hassle-free and hygienic experience.
Versatile Use: Suitable for a range of applications, from home use to professional settings such as rehab centers, hospitals, and youth centers — trust the quality of Ovus Medical to protect your loved ones, employees, and community. 
HOW TO USE:  (see the detailed instructions tab above) 
Why The 14 Panel Drug Test?
Accuracy, convenience, and reliability—these three words define the new 14-Panel Drug Test w/ ALC, FYL, HCG. Whether you need it for drug addiction screening or pain management, this drug test cup has you covered with its ability to detect fourteen drugs. It comes with a peel-and-read label and a built-in temperature strip and is also leak-resistant for your convenience.
The results achieved with the 14 panel urine drug tests are accurate and can be read in under 10 minutes. All of these test strips adhere to strict SAMHSA guidelines regarding cut-of levels of each drug, giving you peace of mind when making decisions based on the test result. For those looking for bulk orders, special pricing can be availed to suit your needs!
No more wasted time waiting for results – this test is easy to read, with accurate results coming in under 10 minutes! Furthermore, it comes with a built-in temperature strip, so you know exactly when it's ready to be used. Each test also has an expiration date printed on the label with a shelf life lasting up to 2 years, giving you plenty of time to get the most out of each purchase.
So if accuracy, efficiency, and convenience are what you're looking for, then count on 14 Panel Drug Tests w/ ALC, FYL, HCG to make sure your drug testing needs are met. Get yours today!
Cutoff levels expressed as nanograms per milliliter (NG/ml) and set as follows:
Drug Name

Abbreviation

Detection time

Cut-Off Level

Amphetamines

AMP

1-2 Days

1000 ng/mL

Barbiturates

BAR

1-4 Days

300 ng/mL

Benzodiazepines

BZO

1-2 Days

300 ng/mL

Buprenorphine

BUP

2-6 Days

10 ng/mL

Cocaine

COC

2-4 Days

300 ng/mL

Ecstasy

MDMA

2-4 Days

500 ng/mL

Fentanyl

FYL

2-3 Days

200 ng/mL

Marijuana

THC

5+ Days

50 ng/mL

Methadone

MTD

1-3 Days

300 ng/mL

Methamphetamine

mAMP (or MET)

2-4 Days

1000 ng/mL

Morphine

OPI

2-3 Days

300 ng/mL

Oxycodone

OXY

1-3 Days

100 ng/mL

Human Chorionic Gonadotropin

hCG

Ethyl Alcohol

ALC

1-2 Days