Forensic use only due to Fentanyl
Please see below for additional information
Drugs Tested
AMP/ 1000, OPI /300, MET/ 1000, BZO /300, COC /300, MTD/ 300, OXY /100, BUP /10, MDMA/ 500, THC/ 50, BAR /300, PCP /25, FYL/ 200, EtG/500, KRA/500, TCA/1000, LSD/20, HCO/300
FREE SHIPPING OVER $99
FOR BULK ORDERS CALL 1800-921-8241
18 Panel Urine Drug Test Cup
Ovus Medical offers our customers reliable, accurate, FDA Approved 18 panel urine drug testing cups. Our drug testing cups are designed to be easy to use. Reliable and accurate drug testing. You can be assured that your results will be 99% accurate. Our drug testing supplies are subjected to severe requirements set by agencies such as the FDA, CLIA, and SAMHSA. Because of the new lower cut-off levels, this is the best urine drug test for drug screening and pain management.
What does a 18 Panel Drug Test test for ?
18 Panel Drug Tested
AMP/ 1000, OPI /300, MET/ 1000, BZO /300, COC /300, MTD/ 300, OXY /100, BUP /10, MDMA/ 500, THC/ 50, BAR /300, PCP /25, FYL/ 200, EtG/500, KRA/500, TCA/1000, LSD/20, HCO/300
What is an 18 panel drug test?
This 18-panel drug testing kit provides results in 5 minutes.
This urine drug testing cup is simple to use.
With % accuracy, these one-step 18-panel urine testing cups identify 18 substances in human pee.
Useful in both random and scheduled drug testing.
Ideal for workplace drug testing, school drug testing, treatment facilities, drug testing labs, and more.
Ovus Medical is your one-stop shop for drug testing supplies at wholesale prices.
Ovus Medical's urine drug testing cups offer accurate drug testing results with convenience and speed. This 'rapid results' drug test cup offers simple to read outcome in as little as 5 minutes. Cups are made to be mess-free, with a no-drip screw top cover for easy handling and added security. Simple enough to test at home or in the workplace. Each cup has a built-in temperature strip that is used to confirm the person's pee. In 5 minutes, you'll have the results of your drug test cup.
This POC (Point-of-Care) urinalysis cup is easy and provides fast results. It is a cost-effective option that is relied on by businesses, institutes, schools, government facilities, and other similar organizations for its dependability and accuracy.
The cup is extremely sensitive and affiliates to

 SAMHSA

cutoff levels.

Each drug testing cup has a 99% accuracy rate.

Click the 'Shipping & Info tab' to learn what is on this 18 panel drug test.
How to read a 18 Panel Drug Test cup:
Drug test cups results are indicated by the colored bands on each cup.
Go to the Cup Testing Instructions tab on this page for full directions.
Additional information
| | |
| --- | --- |
| Weight | N/A |
| Dimensions | N/A |
Testing Instructions
Keep the 18 Panel EtG Drug Test Cup, specimen, and/ or controls to room temperature (59-78 degrees F) before use. Remove the cap from the sealed pouch and use it as soon as possible.
Have the donor date and initial the body label.
The donor provides a urine specimen in the drug testing cup and screws the cap on top of it. Start the timer immediately after use.
The operator checks the cap for tightness and no leak drop.
Remove the peel-off label.
Check the temperature strip label at 2-4 minutes after specimen collection for the fresh urine specimen. Green color will appear to indicate the temperature of the urine specimen. The proper range for an adulterated specimen is 90-100 degrees F (32-38 degree C).
Drug test results are indicated by the presence or absence of colored band(s) in the result area of the test strips. Make sure to read the test result after a time interval of 5 minutes. Do not interpret the result after 8 minutes.
Positive test results must be confirmed by another drug testing method. Send the cup and urine specimen intact to a toxicology laboratory for confirmation.
Reading Test Results
Negative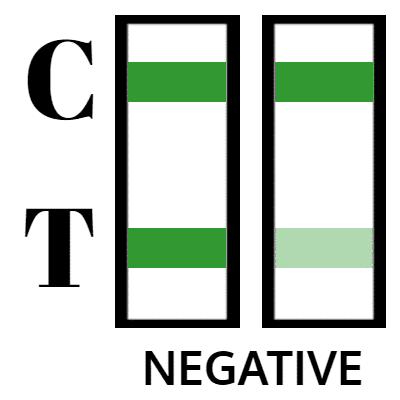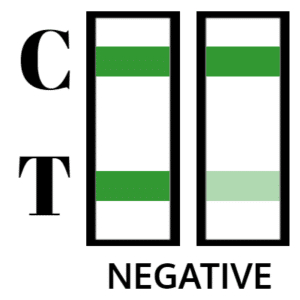 Two colored bands appear on the membrane. One band appears in the control regions © and another band appears in the test region (T)
Cut-Off
Cutoff levels expressed as nanograms per milliliter (NG/ml) and set as follows:
| | | | |
| --- | --- | --- | --- |
| Drug Name | Abbreviation | Detection time | Cut-Off Level |
| Amphetamines | AMP | 1-2 Days | 1000 ng/mL |
| Barbiturates | BAR | 1-4 Days | 300 ng/mL |
| Benzodiazepines | BZO | 1-2 Days | 300 ng/mL |
| Buprenorphine | BUP | 2-6 Days | 10 ng/mL |
| Cocaine | COC | 2-4 Days | 300 ng/mL |
| Ecstasy | MDMA | 2-4 Days | 500 ng/mL |
| Fentanyl | FYL | 2-3 Days | 200 ng/mL |
| Marijuana | THC | 5+ Days | 50 ng/mL |
| Methadone | MTD | 1-3 Days | 300 ng/mL |
| Methamphetamine | mAMP (or MET) | 2-4 Days | 1000 ng/mL |
| Morphine | OPI | 2-3 Days | 300 ng/mL |
| Oxycodone | OXY | 1-3 Days | 100 ng/mL |
| Phencyclidine | PCP | 7-14 Days | 25 ng/mL |
| Nortriptyline | TCA | 2-7 Days | 1000 ng/mL |
| Ethyl -glucuronide | EtG | 1-3 Days | 500 ng/mL |
| Kratom | PCP | 1-9 Days | 500 ng/mL |
Delivery & Shipping
Same Day Shipping Monday-Friday
For All Orders Placed By 4pm
Next Day Shipments Are Delivered
On The Next Business Day
NOTE: There Are No Deliveries On Weekends
---
Drug tested
| | |
| --- | --- |
| Status | For Forensic Use Only |
| Drug tested filter | Amphetamine (AMP), Barbiturate (BAR), Benzodiazepine (BZO), Buprenorphine (BUP), Cocaine (COC), Ethyl Glucuronide (EtG), Fentanyl (FYL), Kratom (KRA), Marijuana (THC), MDMA (MDMA/Molly), Methadone (MTD), Methamphetamine (MET), Opiates (OPI/MOR), Oxycodone (OXY), Phencyclidine (PCP), Tricyclic Antidepressants (TCA) |