13 Panel Drug Test w/ Fentanyl
Forensic use only due to Fentanyl
Please see additional info below
Drugs Tested
AMP, BAR, BUP, BZO, COC, MAMP (MET), MDMA, MTD, OPI300 (MOP), OXY, THC, TCA  &  FYL (Fentanyl)
FREE SHIPPING OVER $99
FOR BULK PRICING CALL 1 800-921-8241
13 Panel Drug Test w/ Fentanyl
Ovus Medical offers this easy to use, reliable 13 panel cup that tests for 13 drugs including Fentanyl. It's fast, easy and convenient to use. Results in 5 minutes. These 13 Panel Drug Test kits are optimal for home, office, government testing and all major industries.
What does a 13 panel drug test test for:
Amphetamine (AMP), Barbiturates (BAR), Benzodiazepine (BZO), Buprenorphine (BUP), Cocaine (COC), Ecstasy (MDMA), Fentanyl (FYL), Marijuana (THC), Methadone (MTD), Methamphetamine (MET), Opiates (OPI/MOR), Oxycodone (OXY), Tricyclic Antidepressants (TCA)
Ovus Medical's urine drug testing cups offer accurate drug testing results. This 'quick results' drug test cup provides easy-to-read results in as little as 5 minutes. Cups are meant to be mess-free, with a no-drip screw top cover for easy handling and added security. Simple enough to test at home or in the workplace. Each cup has a built-in temperature strip that is used to confirm the person's pee. In 5 minutes, you'll have the results of your drug test cup.
---
13 panel urine drug test
Ovus Medical's 13 Panel Drug Testing kits are fast, convenient and  easy to use. 
These one-step 13 panel urine drug test cups detect the presence of 13 drugs in human urine with 99% accuracy.
Urine drug testing cups offer accurate results with convenience and speed.
Due to the presence of Fentanyl, they are for Forensic Use Only.
This 'rapid results' drug test cup offers simple to read results in as little as 5 minutes.
They are designed to reduce mess with a no-drip screw top lid.
Simple enough for testing in the home or office.
Each cup contains a built-in temperature strip that is used to verify the person's urine.
Ovus Medical is your one stop shop for drug testing supplies.
13 panel urine drug test
The cup is extremely sensitive and affiliates to SAMHSA cutoff levels.
Each drug testing cup has a 99% accuracy rate.
Click the 'Info & Shipping tab' to learn what is on this 13 panel drug test.
---
How to read a 13 panel drug test: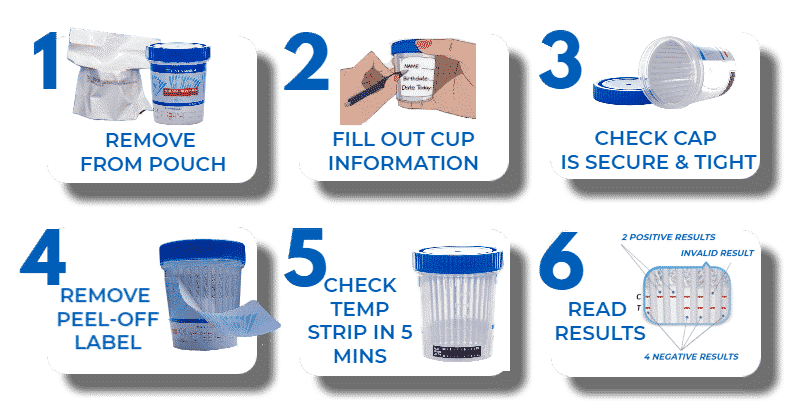 If superior quality, speed and reliability are your primary considerations for buying 13 panel drug test cups, you came to the right place! Ovus Medical offers one-step, 99 percent accurate 13 panel cups. These drug tests are large enough to collect urine samples while remaining small enough to fit in the palm of a person's hand. Reading the findings is also quick and simple. After the 5-minute timer has expired, just peel off the label to show the results. They also have no-drip screw top lids, which eliminates the possibility of pee touching your skin. Quick, dependable, and precise.
Are home drug testing kits accurate?
Our drug testing kits have a 99.9% success rate. The findings are visible in around 5 minutes or less. We recommend reviewing the urine samples five minutes after taking the drug test for the best results. After 10 minutes, do not attempt to assess. Keep the drug testing kit in a temperature-controlled room that is between 36 and 78 degrees Fahrenheit. Remove the seals only when ready to use.
Where can I buy a 13 panel drug test?
What are the Fentanyl street names?
How dangerous in Fentanyl? How do I test for Fentanyl? All the answers for Fentanyl-overdose-7-facts-everybody-should-know. Read on to find out or contact us with any questions.
This 13 Panel Drug Test w/ Fentanyl Forensic Use Only
Used for testing Schedule 1 drugs.
Drug Testing For Employment and drug testing in the workplace
Drug Testing Facilities Near Me
Additional information
| | |
| --- | --- |
| Weight | N/A |
| Dimensions | N/A |
Testing Instructions
Drug Testing Instructions:
1. Be sure the drug test cup, specimen, and/ or controls are at room temperature (59-78 degrees) Remove the cup from the sealed pouch and use it as soon as possible.
2. Have the donor date and initial the label on the cup.
3. The donor provides a urine specimen in the drug testing cup and screws the cap on top of it. Start timer immediately.
4. The operator checks the cap for tightness.
5. Remove the peel-off label.
6. Check the temperature strip label at 4-5 minutes after specimen collection for the fresh urine specimen. Green color will appear to indicate the temperature of the urine specimen. The proper range for an adulterated specimen is 90-100 degrees F (32-38 degree C).
7. Drug test results are indicated by the presence or absence of colored band(s) in the result area of the test strips. The result should be read at 5 minutes. Do not interpret the result after 8 minutes as the test is then invalid.
8. Positive test results must be confirmed by another drug testing method. Send the cup and urine specimen intact to a toxicology laboratory for confirmation.
Cut-Off
| | | |
| --- | --- | --- |
| Drug Name | Abbreviation | Cut-Off Level |
| Amphetamines | AMP | 1000 ng/mL |
| Barbiturates | BAR | 300 ng/mL |
| Benzodiazepines | BZO | 300 ng/mL |
| Buprenorphine | BUP | 10 ng/mL |
| Cocaine | COC | 300 ng/mL |
| Ecstasy | MDMA | 500 ng/mL |
| Fentanyl | FYL | 200 ng/mL |
| Marijuana | THC | 50 ng/mL |
| Methadone | MTD | 300 ng/mL |
| Methamphetamine | mAMP (or MET) | 1000 ng/mL |
| Morphine | OPI | 300 ng/mL |
| Oxycodone | OXY | 100 ng/mL |
| Tricyclic Antidepressants | TCA | 1000 ng/mL |
Delivery & Shipping
Same Day Shipping Monday-Friday
For All Orders Placed By 4pm
Next Day Shipments Are Delivered
On The Next Business Day
NOTE: There Are No Deliveries On Weekends
---
Drug tested
| | |
| --- | --- |
| Status | Forensic Use Only |
| Drug tested filter | Amphetamine (AMP), Barbiturate (BAR), Benzodiazepine (BZO), Buprenorphine (BUP), Cocaine (COC), Fentanyl (FYL), Marijuana (THC), MDMA (MDMA/Molly), Methadone (MTD), Methamphetamine (MET), Opiates (OPI/MOR), Oxycodone (OXY), Tricyclic Antidepressants (TCA) |