The Process of Getting CLIA Certified – CLIA stands for Clinical Laboratory Improvement Amendments of 1988. This is a federal law that requires a certificate for any facility that collects human samples and performs tests for the purpose of diagnosis, treatment, or prevention. Even performing one test, including those that are waived, will require the facility to be certified. Here is the process of getting CLIA certified.
How to Obtain a CLIA Certificate
First, submit Form CMS-116 to your state's CLIA-certifying agency. Online application. Multiple facilities must each submit Form CMS-116. The agency will mail you a fee coupon after receiving your application. The agency sends you the CLIA Certificate after you pay.
Depending on your local agency, CLIA certification can take four to 12 weeks.
After receiving your certificate, you can start testing. Consult your local agency first. Some states have testing requirements.
There are five different certification options. The type you apply for will depend on what type of testing your facility will be doing.
What is Certificate of Waiver (COW): Used only by facilities that perform waived tests.
The Certificate for Provider-Performed Microscopy (PPM) Procedures: Testing that includes microscopy during patient visits.
Also the Certificate of Registration: Allows facilities to perform non-waived tests until the lab is inspected and determined to be in compliance with CLIA regulations.
The Certificate of Compliance (COC) – For facilities that have passed inspection after performing non-waived tests.
Certificate of Accreditation (COA) – Awarded to facilities that perform non-waived tests based on their accreditation by CLIA-approved organizations.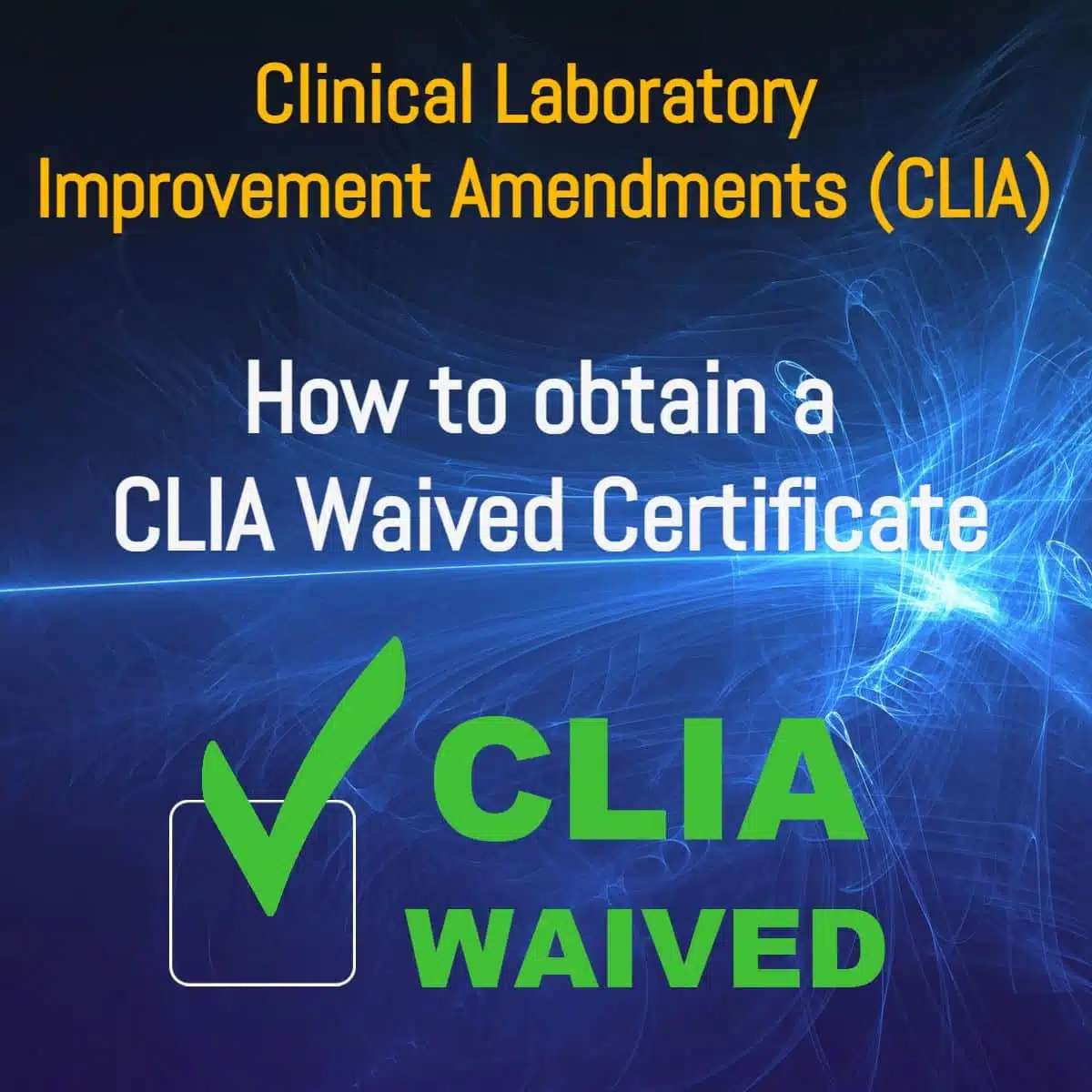 How Much Does CLIA Certification Cost?
CLIA certification costs vary by type. Two-yearly applications and fees are due. The CLIA website lists certification fees based on specialties and annual test volumes. CLIA waived certificates and PPM certifications cost $180 and $240, regardless of specialties and testing volume.
What is CLIA Waived Certification?
CLIA waived certifications are for facilities that perform only waived tests. The Food and Drug Administration (FDA) is in charge of determining what tests fit into this classification. FDA classifies waived tests as "simple laboratory examinations and procedures that have an insignificant risk of an erroneous result." You can find a list of waived tests on the "Currently Waived Analytes" page of the FDA's website. Common tests on this list include drug and COVID-19 rapid tests.
Your Testing Supplies Outlet
Obtaining a CLIA certification is a simple and straightforward task. If you have any questions, be sure to reach out to your local agency. They can help you with the application process and understand the regulations in your state. At Ovus Medical, we supply a large number of different waived tests for your facility, including COVID-19 rapid tests and urine and saliva drug testing supplies. We even offer wholesale supplies at discounted prices. Call us today to order your testing supplies.
CLICK HERE

 FOR THE CDC'S QUIK TIP GUIDE BY STATE FOR OBTAINING A CLIA CERTIFICATE


WATCH HERE

 TO VIEW A VIDEO ON HOW TO FILL OUT THE CMS-166 FORM

CLICK HERE

 FOR VARIOUS PDF CLIA BROCHURES AND EXPLANATIONS 


SEE HERE

 FOR MORE RELEVANT INFO ON HOW TO OBTAIN A CLIA CERT


To attain a CLIA Certificate of Waiver or any other CLIA certificate, a laboratory must fill out and submit the CMS-116 Form located on the US Department of Health and Human Services website. 
---