AS LOW AS $0.99EA
Kratom Urine Test Device FOR BULK PRICING CALL 1 80-921-8241
Cutoff Level: 500ng/ml
Ovus Medical product description:
Additional information
| | |
| --- | --- |
| Weight | N/A |
| Dimensions | N/A |
| Drug tested filter | |
Cartridges testing Instructions
Instructions
A sample urine specimen must collect from the donor for testing. When the urine specimen is ready for testing, the operator will remove the Kratom use cartridge from the protective packaging.
The cartridge may be damaged by extended exposure to light and air. Do not remove the cartridge until ready to perform the test to ensure the most reliable results. If the cartridge is removed from packaging more than 1 hour prior to testing, the results should not be interpreted.
Do not touch the strip membrane. Bacteria from hands and surfaces may contaminate the testing strip and invalidate results.
Hold the Kratom use test strip where the product name is printed. Carefully place the testing strip membrane into the cup, in a vertical position. Do not immerse the strip past the MAX line on the testing strip.
Allow the strip to absorb as much of the sample as possible, immersing the membrane in the specimen for at least 10 to 15 seconds. You might notice color moving across the strip. But the results cannot read before five minutes. Do not interpret results after 10 minutes.
Interpreting Results
Delivery & Shipping
Same Day Shipping Monday-Friday
For All Orders Placed By 3:00pm

FED EX 2nd DAY and 3rd DAY are guaranteed, if the order is placed by 3pm,  but they do not include Sat, Sun or Holiday deliveries to business addresses.
Forensic Use
What is Forensic use only?
Forensic Use Only devices are meant to be sold for research purposes only. The FDA does not regulate these devices, and they are solely to be used as screening instruments. Please send the device to a laboratory for confirmation if more information is needed about the results of a forensic use only drug test.
Courts, police departments, probation/parole offices, juvenile detention centers, prisons, jails, correction centers, and other law enforcement organizations, as well as laboratories or other establishments that provide forensic testing for these institutions, are all eligible users.
Forensic Applications Only gadgets are not designed, tested, manufactured, or labeled for use in other settings such as clinical diagnostics or the workplace.
What does it mean when something says "For Forensic Use Only"?
This indicates that the drug testing gadget has not received FDA 510k approval. This type of drug test should not be used for job screening, pain management screening, or any other reason. These tests are only used in law enforcement, prisons, the military, and other government institutions to test for drugs.
What products are included in this category?
Some saliva/oral drug detection products are only meant to be used in forensic situations. Furthermore, some specialty tests (such as our K2/Spice drug test) are designed exclusively for forensic use. This category could possibly include other screening equipment. Any forensic-only equipment on our site will be explicitly stated on the product page.
Kratom Urine Test
Kratom Urine Test device – Our Kratom Drug Testing Cartridges provide results within 5 minutes. The Kratom and drug tests pack are convenient and easy to use. Kratom Urine Test Cartridges enable users to perform Kratom testing easily and without assistance. An easy to use and low cost rapid on-site drug test. Vivid color lines make reading test results easy at 5 minutes.
Kratom Drug Test
Ovus Medical's Kratom testing packs are reliable and easy to use
This kratom urine test cartridge will detect the strains of kratom levels and their metabolites
Kratom cartridges detects kratom and its metabolites in urine (7-hydroxymitragynine 500ng/ml)
Kratom Urine Test device Forensic Use Only
Easy and convenient to use
Get results with this Kratom Urine Test within 5 minutes with 99% perfect
Cartridge works by allowing the test administrator to extract the urine sample using a dropper
Kratom Drug Test Kits are also available in the form of a  Drug Testing Strip
Does Kratom Show Up On a Drug Test?
When a dose of kratom is ingested, the effects of Kratom can start to show in about 30 minutes to one hour. These effects last for a few hours, depending on the amount taken. The longest reported duration of a kratom "high" is about 6 hours. Kratom does not typical show up on standard drug tests.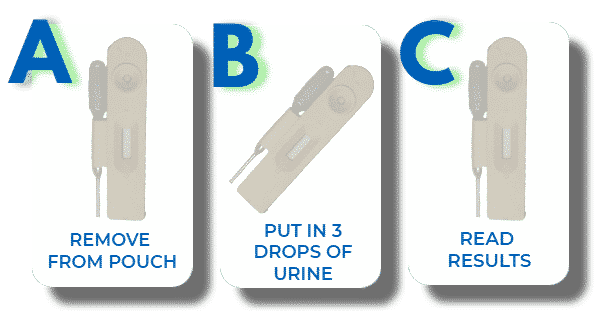 What is a kratom drug test cartridge?
Ovus Medical presents the Kratom Test Cartridge. This  urine drug test  detects the Kratom levels in the human body. It allows the test admin to draw out the urine specimen using a small dropper. The administrator then releases three droplets into the hole indicated on the cartridge.
Cutoff Concentration
Kratom use tests qualitatively determine whether a specimen contains mitragynine and hydroxy mitragynine at levels consistent with Kratom use. The cutoff concentration for Kratom drug testing is expressed in nanograms per milliliter (ng/ml) and is preset at 300 ng/ml.
Kratom Drug Tests at Ovus Medical

Is kratom illegal?
In the United States, kratom is not federally regulated. This means that no government body checks or guarantees the quality and safety of kratom products purchased in the U.S., including online. Because of the drug's harmful effects and addictive properties, the Drug Enforcement Agency (DEA) has considered labeling kratom a controlled substance.
Although kratom is technically legal at the federal level, some states and municipalities have chosen to ban the substance, making it illegal to sell, possess, grow, or use it. Others have imposed age restrictions. Below is an overview of the legality of kratom in every U.S. state. 
Is kratom safe?
Kratom Urine Test – Without this research, there are a lot of things about this drug that remain unknown, such as effective and safe dosage, possible interactions, and possible harmful effects including death. These are all things that you should weigh before taking any drug.
Forensic Use Only
This test  is exclusively intended for use in Criminal Justice and Law Enforcement testing purposes. It does not include testing intended for Federal Drug Testing programs. This drug testing is not FDA cleared.