Substance abuse treatment provides people with a way out of their addiction. Addiction is medically recognized as a chronic brain disease. The American Psychiatric Association in 2013 categorized it as a substance use disorder (SUD). Like any disease, (SUD) is treatable, and people can recover from it.
But how is it that only 10% of Americans with substance abuse issues receive addiction treatment?
There are 23.5 Million Americans who need substance abuse treatment. If you are one of them or have a loved one or friend living with substance abuse, read on and seek treatment. 
What is substance abuse treatment?
Substance use disorder (SUD) treatment aims to help addicted individuals stop compulsive drug seeking and use despite harmful consequences. It is long-term, involves multidisciplinary interventions, and incurs costs that readily have options for payment. Additionally, the treatment is most effective when tailored to your needs. Much of its success depends on your commitment to the treatment program.
What Substance Abuse Treatment Does
 It helps:
stop using drugs

stay drug-free

be productive in the family, at work, and in society
The five treatment approaches are:
Detoxification 

Behavioral therapy

Medication-assisted treatment

Evaluation and treatment for co-occurring mental health disorders

Long-term follow-up to prevent relapse
 In addition, the best results come from integrating these into a treatment plan that is customized to your needs. So let's dive into these approaches.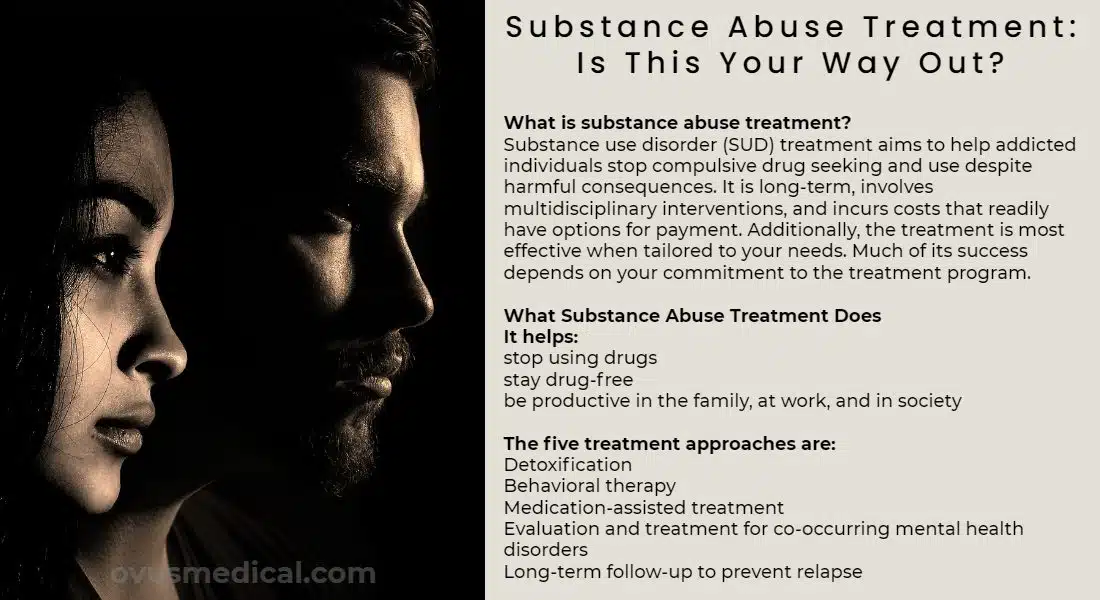 Detoxification
In detoxification, a user safely withdraws from drugs or alcohol, leaving no traces of them in his body. This is the first step in addiction treatment.  Withdrawal can be fatal and needs 24-hour support. Doctors prescribe medication-assisted therapy to prevent complications and ease the intensity of withdrawal symptoms. 
Behavioral Therapy
On the other hand, Behavioral therapies may include systematic use, such as contingency management. It provides incentives for patients to remain abstinent and modify attitudes and behaviors related to drug abuse. The use of psychodynamic therapy helps patients develop life skills to manage triggers that create intense cravings.
Medication-assisted treatment(MAT)
 MAT is the use of pharmacotherapeutics to help restore balance to the neurochemical processes in our brain that are disrupted thru the long-term use of drugs and alcohol. Additionally, it helps manage withdrawal symptoms, diminish cravings, or treat co-occurring disorders. MAT is most effective when integrated with a comprehensive treatment program. 
Evaluation and treatment for co-occurring mental health disorders
Co-occurring with SUD are mental disorders like depression, antisocial personality disorder, and attention-deficit hyperactivity disorder. Whichever came first, long-term recovery depends on getting treatment for both disorders by the same treatment provider or team. 
Long-term follow-up to prevent relapse
Recovery from addiction continues after treatment. The most common forms of aftercare are 12-step meetings, support groups, outpatient care, counseling, and sober living or halfway house. Your treatment team guides you into these aftercare processes.
 The Outpatient and Inpatient Treatment Types
 Two types of substance abuse treatment programs fall into either inpatient or outpatient rehab. Both are focused on rehabilitation, but each has its benefits.
 Outpatient rehab allows you to maintain a normal daily routine while spending 10-12 hours in the facility a week. Suitable for mild addictions, this will usually last approximately 3 to over a year. 
On the other hand, inpatient rehab is intensive and treats severe addictions. It requires 24-hour medical and emotional support and can last for 28 days to six months.

 How much does substance abuse treatment cost?
90% of Americans do not seek substance abuse treatment due to perceived high costs. Are you one of them? Having financial concerns is no reason to delay treatment. Because the good news is that there are options to help cover the treatment cost.
During your treatment planning, discuss payments for rehab. They can help you find many ways to fund treatment costs. This will include assessing your medical insurance plan, Medicare or Medicaid eligibility, and government assistance programs or non-profit treatment programs.
Will you have a job to go back to after treatment?
A federal  Family Medical Leave Act(FMLA) allows employed people 12 weeks without paying medical leave without losing their job. You can use these 12 weeks as a starting point for your recovery journey. 
The long-term cost of addiction is greater than the immediate cost of paying for drug rehab. A clearer mind and restored bodily health are more than the price of treatment. These are compelling enough for you or for anyone you care to go for substance abuse treatment.
So long as you are committed to seeking treatment for substance abuse, you are already halfway there. We now know treatment costs are no reason to refrain from receiving treatment. Therapy providers recognize you as an individual with a disorder and honestly care about your recovery. And if stigma holds you back, government and private organizations have joined forces to destigmatize addiction. You are not alone in this journey. 
Want to know more on this topic? Visit the Ovus Medical Blog where you'll find articles about drug testing programs, drug testing, and more!