Purchase Urine Drug Tests Here
There is no doubt that there are huge benefits to buying urine drug test cups in bulk. According to American Addiction Centers, 36 studies done between 2000 and 2013 showed that truckers used amphetamines, cannabis, and cocaine. As many as 82% of those surveyed from different countries said they used amphetamines, more than 8% used cocaine, and about 91% drink while on the job.
Trucks are imposing figures on roads. Motorists often find it intimidating to be around them because an accident with one can have catastrophic results. This is why the trucking industry is one of the most regulated industries in the United States.
It's imperative for truck drivers always to keep their focus and concentration when behind the wheel. There's simply no room for impairment due to the effects of drugs and alcohol. Unfortunately, drug and substance abuse among truck drivers is quite prevalent.
There's also a strong connection between truck drivers and the sex trade, which believed to escalate drug use. Many sex workers provide sexual favors to truckers in exchange for drugs, and this co-dependent relationship only heightens drivers' tendency to use illegal substances.
Learn more about DOT Drug Testing Here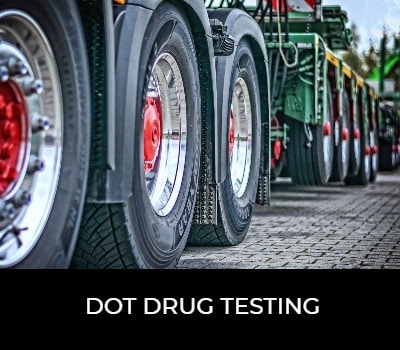 Truckers' drugs and alcohol consumption is attributed to the difficult conditions they're subjected to. They're expected to drive around 500 miles a day through practically any weather and road conditions. Many work extra shifts for the added pay because drivers are paid by the miles they cover, not by the length of time they work.
The cited studies report that truckers' drugs of choice are methamphetamine and cocaine because these drugs keep them alert and awake even after long hours on the road. The lonely life on the road, plus the uncertainty of how much they're going to earn, are acknowledged to be triggers that push truck drivers to consume alcohol and drugs.
Advantages and disadvantages of Workplace testing.
Drug testing regulations for truck drivers
Truckers driving under the influence is a concern that involves the entire country. In 2013, 12% of fatalities from road accidents involved trucks. While truck accidents are not as common as other road mishaps, these vehicles' sheer size increases the likelihood of serious and even fatal consequences.
To address this concern, drug testing for truck drivers has been made mandatory. Under Regulation 49 CFR of the Federal Motor Carrier Safety Administration, anyone with a commercial driver's license or CDL must undergo drug testing.
Before operating a commercial vehicle, a CDL holder must screened for drug use. Additionally, carriers or trucking companies must perform random drug testing each year on 10% or more of their average driver employees. This is why buying a urine cup drug test in bulk makes sense for employers.
Employers may also require a drug test if there is reasonable suspicion that a driver is under the influence. In a fatal accident, employers must submit the driver to drug testing regardless of the circumstances. If a truck accident does not involve a fatality, employers must test the driver only under special circumstances. However, the driver may still subjected to a drug test for insurance purposes.
If a truck driver tests positive or refuses to cooperate, he must complete the Substance Abuse Professional process, where they will be tested, evaluated, educated, and treated. The driver can only return to work after completing the education and treatment covered in the process.
Urine drug testing is, by far, the most commonly used drug screening method. There are two major reasons for this. First, the collection of urine samples is quick and non-invasive. Second, urine highly concentrated and can retain high amounts of drugs within a given period.
The Advantages of Buying a Urine Cup Drug Test in Bulk
Urine testing may done by sending samples to a lab for microscopic analysis. However, more and more employers are using urine cup drug tests instead of a laboratory test prerequisite. If you have a trucking company, you'll find plenty of advantages to buying a urine cup drug test in bulk.
You get cost savings
When you buy a urine cup drug test in bulk, you can get as much as 50% off the listed price. You only need to spend on laboratory testing if you get a positive result and need a 100% confirmation.
You get fast results
A urine cup drug test can take only around five minutes to show the results. You can use it to test a driver before they get behind the wheel. If a positive result found during pre-employment screening, you can refuse the user's job application. If it happens after an accident, you'll know right away about your company's potential liability and can immediately consult a lawyer to protect your interests.
You get the kind of testing you need and prefer
Urine cup drug tests come with panels that test for specific drugs. The law requires testing truck drivers for five drug types: amphetamines, cocaine, marijuana, PCP, and opiates. You can order a 5-panel test that screens all these in one sample. Also have the option for additional panels to test for other drugs like ecstasy and K2/spice.
You get reliable results.
High quality urine cup drug tests screens to the cut-offs specified by the Substance Abuse and Mental Health Services Administration or SAMHSA. This means you only get a positive result if the amount of a substance in the body exceeds the SAMHSA cut-off. This greatly reduces the chances of a false positive, which can happen if samples tested to a lower, less harmful cut-off.
Additionally, urine tests show more recent drug use. Unlike other body samples like hair that retain traces of substances for a longer period, urine does not retain certain drugs longer than two to four days. This assures fair testing for truckers, which can save you a lawsuit or claim for damages.
On the other hand, the more a substance consumed, the longer it stays on the body. A urine cup drug test will reveal if the user has been abusing a substance or has consistently been taking it. 
Ovus Medical can provide you with opportunities for buying urine cup drug test in bulk. Our FDA approved, CLIA waived tests come with the lowest prices on the market. We offer great savings for bulk orders. Call us today at 1800-921-8241 or get in touch here to learn more.
Drug testing kits
Accurate testing kits
Urine drug tests