Around 53 million Americans admit to using illicit drugs within the last year. 
This is a disturbing statistic whether you're in a workplace, substance abuse clinic, or a concerned parent. Drug abuse affects every aspect of life, but it's not always easy to spot. 
Luckily, an 8 panel drug test can provide the answers you need when it comes to drug use. These effective tests can indicate whether people have been in contact with drugs and allow you to get them the help they need. 
Read on to learn about the 8 panel test.
What Is an 8 Panel Drug Test?
The 8 panel test is easy to complete and complies with all CLIA, SAMHSA, and FDA regulations and guidelines. 
These drug tests are quick and easy to complete either at home or in a clinical environment. The 8 urine drug screen panel involves collecting urine in a cup and reading the result five minutes later. 
The urine 8 panel cups are embedded with multi-panel test strips that will reveal 'positive' or 'negative' lines for each panel once the results are ready. 
With 99% accuracy, the 8 panel drug test from Ovus Medical is the best drug test in the industry. 
What Does an 8 Panel Drug Test Test For?
The 8 panel test screens for the most often abused drugs in the United States. As the name would suggest, 8 drugs are tested for. These are: 
Amphetamines 

Benzodiazepines

Buprenorphine 

Cocaine 

Marijuana 

Methadone 

Morphine 

Oxycodone 
In most instances, there is no need to test beyond these 8 drugs. However, if you have specific concerns about a more obscure drug, the 12 panel drug test also tests four more commonly abused substances.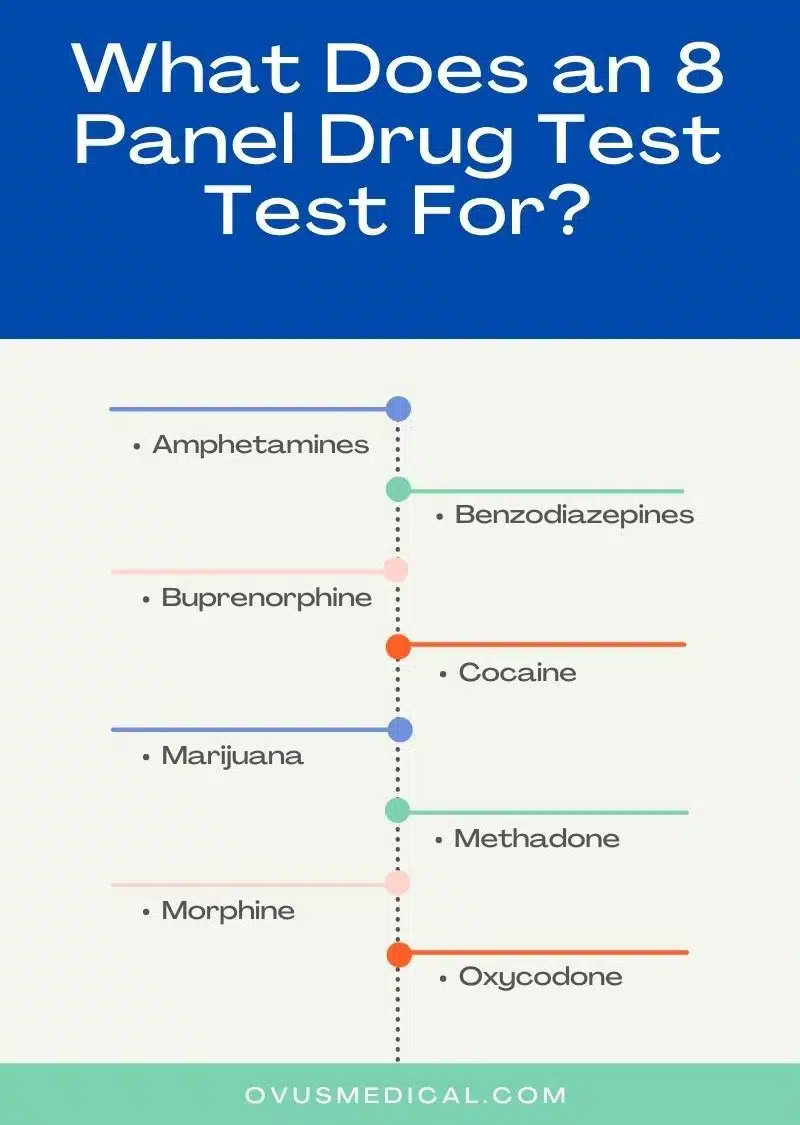 Who Should Buy an 8 Panel Drug Screen?
An 8 panel screening test is an excellent option for anyone concerned about drug use around them.
Individual drug screening isn't always the best option. You may get a negative result for that specific drug and not realize the person is abusing a different type of drug. 
Some of the key people who buy the 8 panel urine tests are: 
Concerned family members

Substance abuse clinics 

Employers 

Pain clinics 

Medical professionals 
Drug tests from Ovus Medical are available in any quantity, making them a sensible and cost-effective option. 
Drug tests in bulk have a very low price per unit ($1.79), or you can purchase small packs for $3.39 per unit. Bulk urine drug tests are a good idea for any commercial organization. 
Buy Drug Test for Peace of Mind
That's the basics of the 8 panel test and what it tests for. If you're investing in drug testing, this is a sure-fire way to ensure you get accurate results every time. 
The ease of the process takes the strain off you and the subject, and bulk urine drug tests are affordable if you shop in the right places. 
If you're ready to have peace of mind when it comes to drug use around you, why not buy an 8 panel test today? 

Buy 8 Panel Drug Test Here