The Centers for Disease Control and Prevention reported a significant rise of over 16 percent in Fentanyl-related overdose deaths in 2019. Fentanyl is more potent than heroin by 50 times, and provisional drug overdose death statistics suggest that overdose fatalities continue to increase during COVID-19. To improve the detection of overdose outbreaks, law enforcement entities and laboratories implement drug tests and other harm reduction strategies to facilitate a more effective response. Discover more about the 13 panel drug test as you read on.
What does a 13 panel drug test test for?
13 Panel drug tests offer superior accuracy for detecting multi drugs with a single procedure. The urine panel drug test cup is capable of screening for the presence of up to 13 different illicit drugs, such as:
Amphetamines (AMP)
Barbiturates (BAR)
Benzodiazepine (BZO)
Buprenorphine (BUP)
Cocaine (COC)
Ecstasy (MDMA)
Marijuana (THC)
Methadone (MTD)
Methamphetamines (MET)
Opiates (OPI/MOR)
Oxycodone (OXY)
Tricyclic antidepressants (TCA)
Fentanyl (FYL)
Note: Due to the screening of Fentanyl, this drug test is strictly for Forensic Use Only. Criminal Justice and Law Enforcement testing is the sole purpose of this test. Testing intended for Federal Drug Testing Programs does not fall into this category. This drug test is not FDA cleared.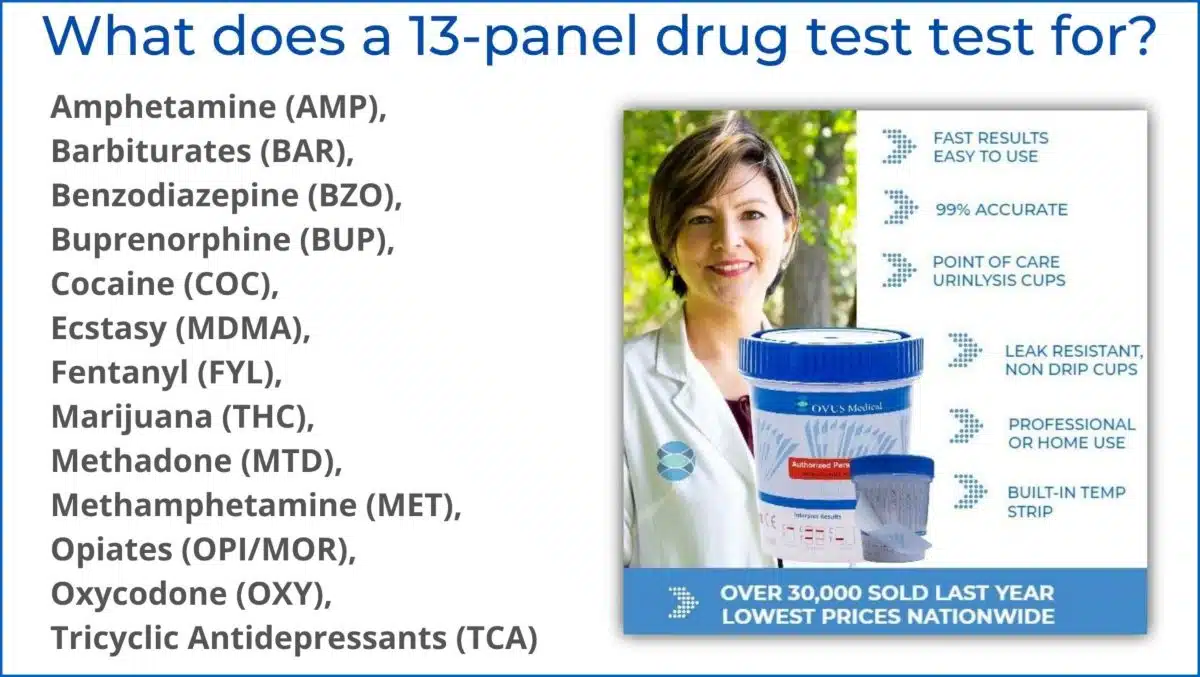 Does a 13 panel drug test for alcohol?
Alcohol does not show up in this type of drug testing method. However, there are different alcohol testing kits available on the market. One of which is the ETG Alcohol Test Strip, a rapid test for detecting alcohol in human urine. Aside from urine, there are ETG tests on blood, nails, and hair, but urine screen is the most common.
How accurate are these drug testing kits?
Using this drug test is a fast, reliable, and accurate testing method. In addition, this test provides a 99% reliability that adheres to standards of risk, error, and accuracy. More so, these test kits are CLIA Waived, making them reliable and trusted to use for urine drug testing.
Furthermore, within five minutes or less, you'll see the results in this drug testing kit. However, you need to check the urine sample test result five minutes after taking the drug test for the most reliable results. Don't interpret it after 8 minutes, as the test is considered invalid.
How to read a 13 panel drug test
When you have selected this drug test as an appropriate urine testing cup, you are ready to begin testing and interpreting the results. Reading the results of a 13-panel drug test cup involves looking for test and control lines present. Moreover, knowing the test components and being familiar with interpreting each of them will help you analyze the results correctly.
Every panel has two regions: the control region (C) and the test region (T). Control regions at the top indicate whether the test is functional, while test regions indicate whether the drug under test is present. Each combination of colored lines in two regions determines if the drug test result associated with a specific illicit substance is positive, negative, or invalid. Though reading a drug test cup result is a simple test method to carry out, it requires a few steps to get an accurate result.
What are its features and benefits?
Here are some quick features and benefits of the 13 panel drug test that have made it the drug screening solution of choice for many organizations:
This multi-panel drug testing kit is ideal because it is fast, convenient, and easy to use.
The test is simple enough for law enforcement entities, laboratories, and other forensic testing establishments to administer.
Using it is a single-step process that provides 99% accuracy for determining multiple substances.
In just five minutes, it can detect up to 13 illicit substances and offers simple-to-read results.
These drug testing cups are extremely sensitive and conform to SAMHSA cutoff levels.
These cups with leak-proof lids reduce mess and can be safely sent to the laboratory for further analysis.
It has built-in test controls and includes a built-in temperature strip to validate fresh urine samples.
From the date of manufacture, drug test kits have an expiration date of up to 24 months.
This drug test cup includes the Fentanyl test; thus, they are only for forensic use.
As panel tests are widely available in the market today, many Criminal Justice and Law Enforcement offices are already using the 13 panel drug test cup, among others. The inclusion of a Fentanyl test drives organizations to use 13 panel drug test cups as part of their drug testing program to detect and eliminate synthetic opioid overdoses and maintain drugfree workplace.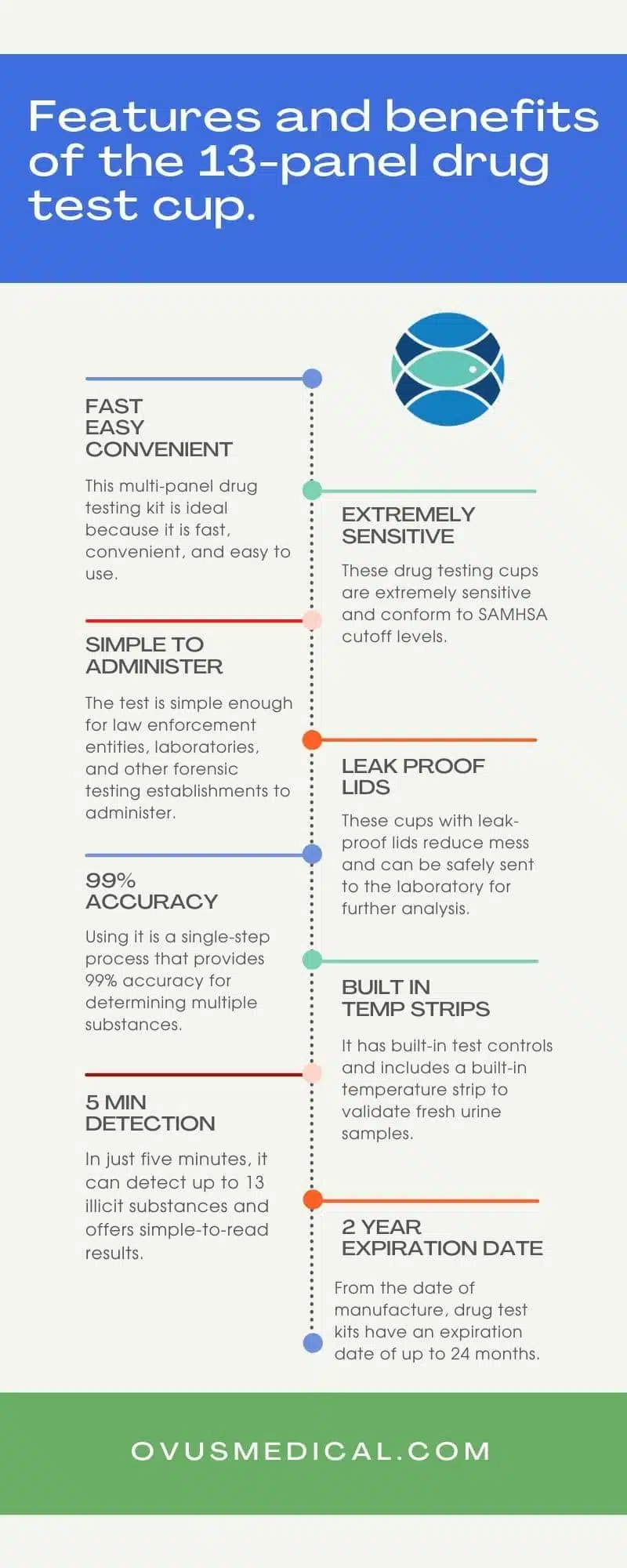 Where can I buy a 13 panel drug test?
If you're looking for affordable yet superior quality drug panels and testing supplies, then take a look at Ovus Medical's 13 panel drug test and other related products now!
Buy 13 Panel Drug Test Cup Here