Best Drug testing Practices: There is an increasing number of people with a history of drug abuse. Which is why more and more companies are giving great importance to conducting workplace drug tests.
As per the recent survey by the American Management Association. More than 80% of companies proclaimed that they are performing drug testing for substance abuse on their employees. As well as the candidates who are applying to the firm.
Nevertheless, we firmly believe that if the companies' want their drug testing programs to be effective. They should be organized and maintain  a consistent and compliant approach.
In this article, we will introduce some of the best drug testing practices for the workplace that conforms effective and correct results.
No matter your company has a working Substance Abuse Policy or not, or you are simply commencing with your first program. you can adhere to these guidelines for success.
Establish Your Mandatory Drug Screening Policy
Initially, when you should start with a drug screening process, you will have to start with a more comprehensive one that adheres to the standard format. Also, make sure that you make as a  mandatory workplace drug testing program.
Workplace drug testing policy should include some standard specific questions pertaining to the  terms, goals, timings, procedures. Additionally, you also need to include some responsible members that would effectuate your actual policy.
There are many sample workplace drug and alcohol policy available at the official websites of specific states that you can use for developing your own drug testing policy or use as a reference.
Choosing a Professional Supplier
Taking help from a professional supplier such as Ovus medical can be of great idea. In fact, you will be able to formulate and instrument a testing program, which can in many ways improve the safety and productivity of your company, while also being more cost-efficient.
Once you choose Ovus medical as your official supplier, it can support you in your pre-employment and post-hire drug testing.
Additionally, a drug testing data can prepare your employees employment background check record. Once you talk to our professionals, we can help you give a comprehensive guide to drug testing laws and regulations that can impact your business.
Eventually, you can customize the program to your needs. It is however advised that you consult your local government and relevant official bodies.
Random Testing
You can also conduct random testing with usually 1 to 3 hours notice.
For best practices for random testing, you can employ both urine workplace drug testing and instant testing. With both the methods you will be able to detect the intake of drugs within the past 1-3 days.
Instant tests can detect drug consumption within 24 hours. Meanwhile, urine tests can show accurate results for up to 72 hours prior to the intake of a substance.
We would recommend you to not conduct drug testing using hair samples as they cannot exhibit a recent result.
In the End …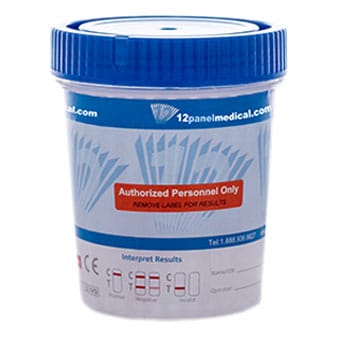 It is always better to protect your company from possible issues with employees involved in drug abuse by conducting a workplace drug test.
In a general scenario, employees are requested to submit urine or saliva samples for appropriate drug and alcohol testing. Advisably, you should include wide-ranged drug tests such as 10-panel drug tests.
This can help you cover covering a larger number of possible drug-abusing substances that the employee or the candidate is using. Save your money and work productivity with the wholesale drug testing cups today!