Purchase Drug Testing Strips Here
There are various reasons why an increasing number of organizations are doing random drug testing. It can save lives and avoid injuries in the workplace. thus minimizing liabilities.
 It prevents an employer from hiring a drug user prior to hiring. Additionally, it creates an unbiased drug testing system for all employees.
But what is random drug testing? Can an employer force an employee into being tested? Who should be tested, and how does the process work? Read on to find out.
What is random drug testing?
As the name implies, random drug testing is performing drug testing on randomly selected members of a workplace. The selection is done using either an Excel Sheet or an online app.
However, random testing should be compliant with federal rules and regulations. As a business owner, it is important to know that you cannot and should not do random drug tests without a solid drug testing policy in place. More importantly, all your job applicants should be aware that your organization requires periodic and random drug tests prior to employment.
How about regular employees? Can you simply announce that there will be a random drug test in a few days? No.
Types of drug tests 
There are five types of drug tests: saliva testing, hair testing, sweat testing, blood testing, and urine testing. Of the five, urine drug testing is the most cost-effective, convenient, and least invasive method for random drug screening. That's why it's the most preferred type of drug test for organizations.
On the other hand, urine drug screens come in two forms: immunoassay and gas chromatography/mass spectrometry (GC/MS). The first is for initial screening. If the drug test results come out positive, the urine sample is sent to a third-party laboratory for GC/MS.

Which types of drugs are commonly tested?
This will depend on your needs and preferences. Federal organizations test for the following drug categories: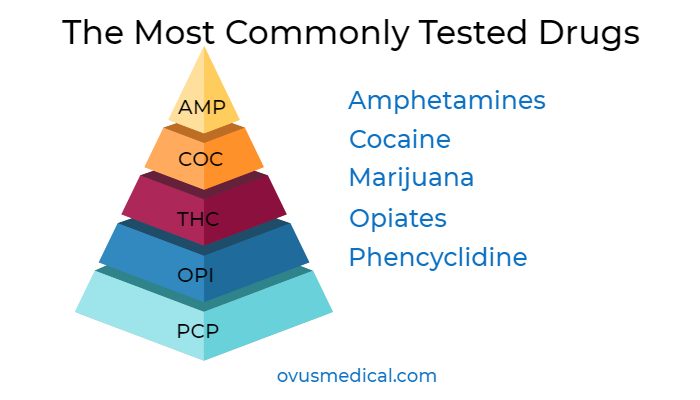 Who should you test?
As an employer, it might be tempting for you to drug test anyone who seems like they used drugs recently. However, be aware that some signs of being intoxicated with drugs are almost synonymous with some disease symptoms. For example, a person with diabetes might look lethargic and sleepy. It's the same signs you see in people who use benzodiazepines.
In other words, don't just choose to test anyone you suspect. Interview the person involved in private according to the guidelines in your drug testing policy.
Urine drug tests
If you own a private company, you can opt to test for many drugs simultaneously. For example, you have the option to screen for fourteen different drugs. In this case, you can choose a 14 panel urine drug test cup. It screens for alcohol, amphetamines, barbiturates, benzodiazepines, cocaine, HCG, methamphetamine, ecstasy, methadone, opioids, oxycodone, marijuana, and fentanyl.
Now, if you're low on budget, you can use dip cards or drug test strips. Dip cards, like multi-panel cups, allow you to screen for several drugs all at once. Drug testing strips, on the other hand, helps you test for a single drug.
If you are a private business owner, you can implement a drug testing policy in your workplace. If you identify drug users among your employees, you can help them live better, drug-free lives by recommending them for substance abuse treatment. 
But before you do, make sure your organization has drug testing policies that follow the federal laws and regulations. This way, you'll avoid legal issues down the line.
Need help in purchasing safe, accurate, and cheap drug testing supplies, send us a message at [email protected]
We'll be more than happy to serve you.
Purchase 10 Panel Oral Swabs Here