Purchase Oral Swabs Here
Saliva drug testing kits are becoming more popular in establishments that implement drug testing policies and programs. Why are these kits gaining popularity? What benefits do they provide? Read on and find out.
10 Panel Saliva Drug Testing Kits: Top 5 Benefits
All-in-one
Think of saliva drug testing kits as a one-stop-shop for all your drug testing needs. It can detect ten substances of abuse, namely:
Amphetamines

Opiates

Barbiturates

Benzodiazepines

PCP

Buprenorphine
So there's no need for additional strips or swabs. That's convenient in a tube!
2. Ease of use
Using a 10 panel drug test kit is easy. Just open the tube, insert the sponge end of the collection stick into the donor's mouth, then leave for 3-5 minutes.
When the sponge is soaked with saliva, put it back into the test tube. Then wait for ten minutes. Read the results.
Easy does it!
3. Accuracy
How does a 10 panel saliva drug testing kit ensure accuracy? It's because it's very difficult to cheat. A donor cannot dilute the sample because you'll be there in the same room with him.
Additionally, these kits are 99% accurate, CLIA-waived, and FDA-approved. So, you can be sure of their preciseness.
4. Maximizes available space
Got a small office or clinic? No problem! With a saliva drug testing kit, you won't need to set up private restrooms. And, if you need to perform drug testing on several donors in one room simultaneously, you can do it.
5. Economy
Unlike other drug testing methods that require expensive tools and equipment, these kits only cost a few dollars. Here at Ovus Medical, you can get them at $7.99 each. The more you buy, the cheaper they get! 
Buy 100 swabs, and you'll get them at $3.99 each. Purchase 1,500 swabs, and the price goes down at $3.39 each. That's more than 50% off!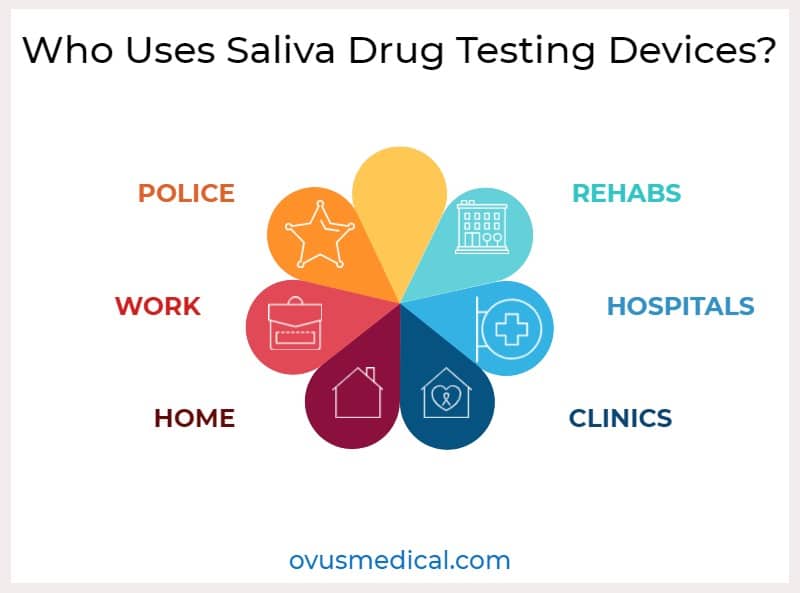 Who Uses Oral Fluid Drug Testing Devices?             
The police
We all know that police officers typically carry breathalyzers to test people suspected of drunk driving. But due to recent cases of driving under the influence of illegal substances, the police also test people for illegal substances.
And what better way to test offenders on the road than by using a saliva drug testing kit? The officer can put the kit in his bag and doesn't have to accompany the driver to a restroom for testing. He needs to place the collection stick into his mouth. Voila! Results in just a matter of minutes!
Workplace
More and more employers prefer to drug test job applicants and employees to ensure health, safety, and workplace productivity.
But due to limited space and lack of knowledgeable technicians, they most often send applicants and employees to drug testing facilities. This, of course, can be quite expensive.
That's why an increasing number of employers prefer oral fluid drug testing. There's no need for supervised urine collection so they can perform drug testing right in the office.
Homes
Parents and guardians who want to make sure their children are drug-free may use non-invasive drug tests. To make their wards feel comfortable, they prefer oral swabs. 
Rehabs, hospitals, clinics, and treatment facilities
These establishments naturally want their patients to recover from their addiction faster. That's why they perform regular and random drug testing.
Some of them have already shifted to using oral swab drug tests to facilitate the process.
Accuracy, ease of use, convenience, and economy are just some of the benefits that saliva drug testing kits can provide.
If your organization needs to buy these drug testing kits in bulk, visit the Ovus Medical Shop. We have amazing deals for you!