Purchase Saliva Testing Kits Here
Are you about to include oral fluid testing in your organization's drug testing methods? Is drug testing one of your requirements for pre-employment? If so, this blog post is for you. Here, you'll learn about some saliva drug test facts you might not be aware of yet.
Saliva Drug Test Facts: The Benefits
Saliva drug tests are highly precise, with up to 99% accuracy. They're leak-proof too, which eliminates the chances of getting someone else's saliva on your hands. Plus, donors won't be able to tamper with them. Because you'll be testing him in front of you, he won't have a chance to substitute or dilute it.

An oral swab test is light and handy. It can fit in your pocket without creating a bulge. So, police officers who need to test people suspected of DUI won't have difficulty carrying it around. 

They're non-invasive. There's no need to draw blood from the donor. All he has to do is wipe the sponge end of the swab in his mouth, hold it there for a few minutes, and voila! The test is over.

No restrooms are needed. So people who need to administer an oral fluid test can do it anywhere. And they're fast too. You can get test results in as little as five minutes!

Easy on the pocket. These saliva drug tests are affordable, especially when you buy them in bulk.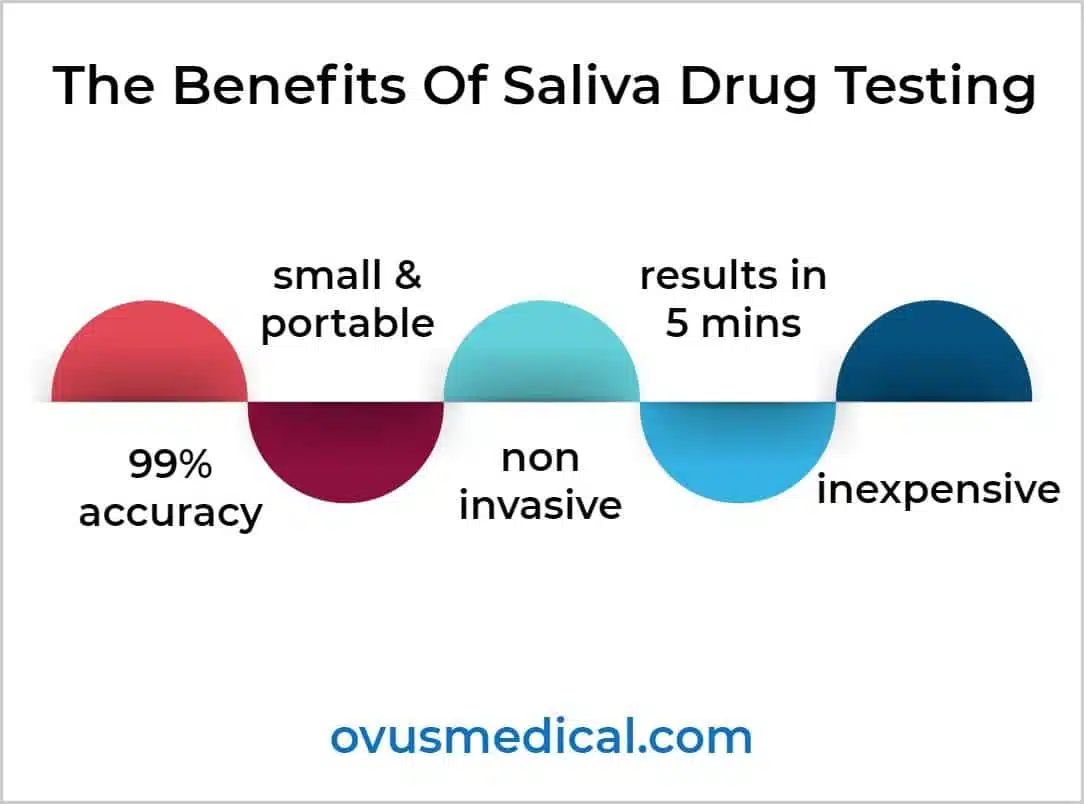 Mouth Swab Drug Test: Time frame of some of the most common drugs of abuse
So, how long do certain drugs stay in your system?
Below is a list, according to Addiction Center.
Alcohol – up to 3 days
Barbiturates – up to 3 days
Benzodiazepines – from 8 hours to 10 days, depending upon the drug used
Cocaine – up to 2 days
Codeine – up to 4 days
Ecstasy – up to 2 days
Fentanyl – not detectable in saliva anytime
Heroin – up to one hour
Hydrocodone – up to 36 hours
Ketamine – not detectable in saliva
LSD – not detectable in saliva
Marijuana – up to 72 hours
Mescaline – up to 10 days
Meth – up to 4 days
Methadone – up to 10 days
Morphine – up to 3 days
Oxycodone – up to 4 days
PCP – up to 10 days
Propoxyphene – not detectable in saliva
Psilocybin – not detectable in saliva
Synthetic marijuana – up to 48 hours
Tramadol- up to 48 hours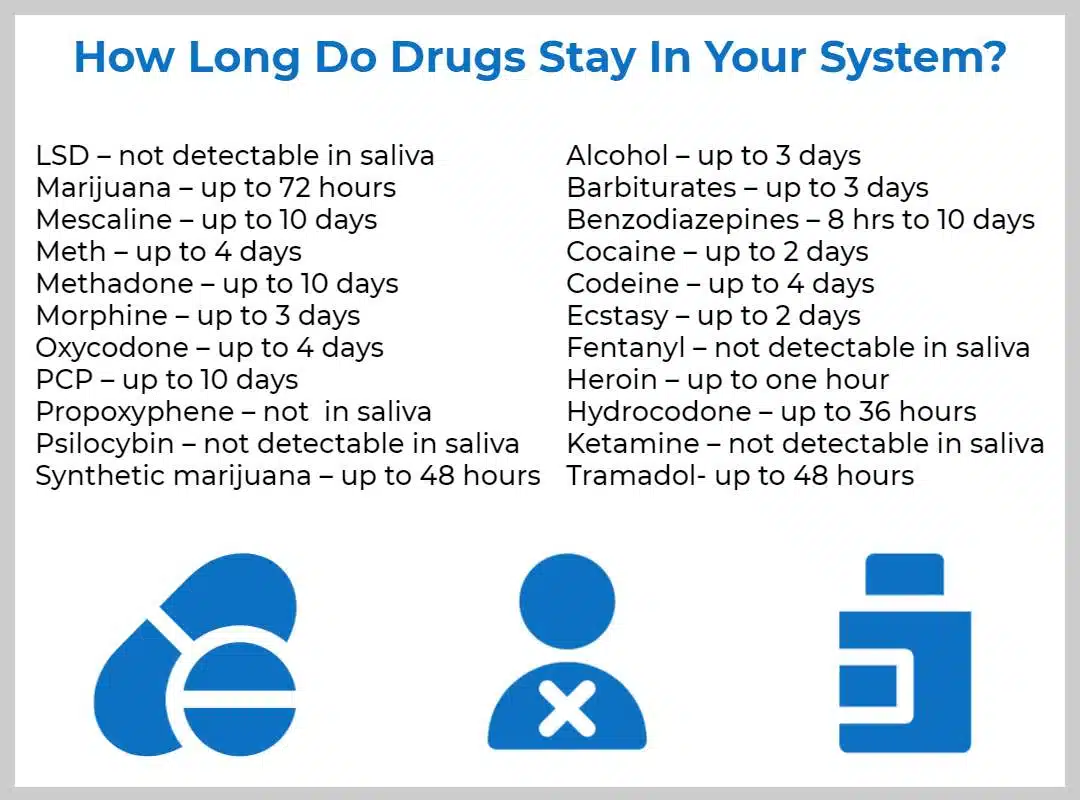 Oral fluids drug test or urine test?
It depends on the type of drug you want to test.
Let's take GHB (Gamma hydroxybutyrate), for example. Some club-goers also take this prescription drug for the treatment of narcolepsy as a substitute for alcoholic beverages. It's because, in low doses, GHB lowers inhibitions and gives a feeling of euphoria.
However, GHB doesn't stay in your system that long, especially if you take it with alcoholic drinks. 
Saliva tests can best detect GHB within 10 – 30 minutes. A GHB test strip, on the other hand, can screen it within 12 hours.
So, which type of test should you use in this case? A urinalysis or a mouth swab drug test? Take your pick.
Another example is testing for alcohol. In saliva, you can detect it within three days. On the other hand, if you use a urine test, alcohol is only detectable within 48 hours. Which test will you choose?
These are just some of the saliva drug test facts you need to know. Please feel free to use them when deciding which drug testing method to use for your organization.
Do you need oral swabs for your business? You can get them at huge discounts here at Ovus Medical. Please email us at JS@OvusMedical.com. We'll be more than happy to serve you!